ball 423
Triangular ballpoint pen
elance 421 45
Ballpoint pen

STAEDTLER® 458
Ballpoint pen refill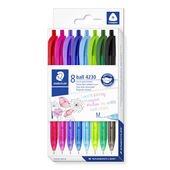 STAEDTLER® ball 4230 M
Triangular ballpoint pen
Cardboard box containing 8 ballpoint pens in assorted writing colours, line width M
STAEDTLER® ball 4230 M
Triangular ballpoint pen
STAEDTLER® ball 4320 F
Triangular ballpoint pen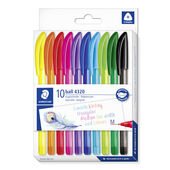 STAEDTLER® ball 4320 M
Triangular ballpoint pen
Cardboard box containing 10 ballpoint pens in assorted writing colours, line width M
STAEDTLER® ball 4320 M
Triangular ballpoint pen
Counter display containing 50 ballpoint pens in assorted writing colours, line width M
STAEDTLER® ball 4320 M
Triangular ballpoint pen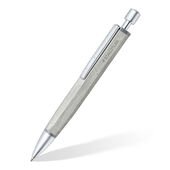 STAEDTLER® Concrete 441CON
Ballpoint pen
Single product grey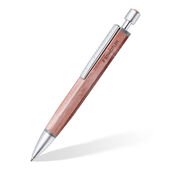 STAEDTLER® Concrete 441CON
Ballpoint pen
Single product brick red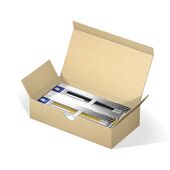 STAEDTLER® triplus® ballpoint pen 444
Retractable ballpoint pen
Cardboard box containing 4 triplus ballpoint pens in assorted colours, each 1 x 444 M02-3; 444 M09-3; 444 M11-3; 444 M20-3
Ballpoint pens have become an indispensable part of everyday life. These pens are particularly popular because they are easy to write with. A ball on the tip of the pen glides smoothly over paper, leaving ink behind. Since their ink consists of a mixture of fat and oil, ballpoint pens can't dry out and will last for ages. This is why they are ideal for everyday office life and noting down important information. Whether with a cap or push-button clip, in blue, black or bright colours – you are sure to find the ideal writing pen to meet your needs in the STAEDTLER product range.
Why should you own a ballpoint pen?
Ballpoint pens, ball pens or biros all refer to a writing pen with a ball on its tip that transfers ink onto paper. No home or office should be without one, as these pens offer many advantages:
Many of our ballpoint pens use indelible ink conforming to ISO 12757-2, which means that they are resistant to acid, water, alcohol and UV radiation.
The ink contains fat and oil, ingredients that do not dry out. For this reason, ballpoint pens last for ages.
Using a ballpoint pen with a gas-pressurised ink cartridge, you can even write upside down, since the gas pushes the ink towards the tip. This type of pen is also leak-proof.
What are the particular features of STAEDTLER ballpoint pens?
Ballpoint pens are available for purchase with a variety of different ink cartridges.
Ink cartridges consisting of a simple plastic tube, such as our inexpensive STAEDTLER stick 430, offer the following specific features:
Selection of line widths: F and M
Available in red, blue, green and black.
The transparent barrel lets you see the ink level at all times.
Very smooth writing experience without having to exert a lot of pressure.

Ballpoint pens with a metal or plastic jumbo refill, such as the STAEDTLER elance 421 45, offer the following special features:
This pen is refillable.
Available in line width M.
Ink colour: blue.
You can choose from a variety of stylish barrel colours to suit your taste.

Ballpoint pens with ergonomic triangular barrel for a particularly pleasant writing experience, such as the STAEDTLER triplus ball, offer the following special features:
Very easy to write with
High-quality metal tip
Airplane-safe – automatic pressure equalisation prevents pen from leaking on board aircraft

Ballpoint pen sets from STAEDTLER are available in office colours or rainbow colours containing 8 or 10 pens.
These STAEDTLER ballpoint pens also feature a triangular barrel for an ergonomic writing experience.
The pens in the 8-pack assortment feature a push-button clip in the same colour as the ink. The ballpoint pens in the 10-pack assortment have a removable cap in the ink colour.
Be optimally prepared when on the go with the mini office
The triplus multi sets contain a variety of items, so you will be optimally equipped for various situations when on the go. All sets come in the practical stand-up STAEDTLER box, which allows you to arrange the pens clearly and store them neatly in your bag. That way, all your writing instruments will always be within easy reach.