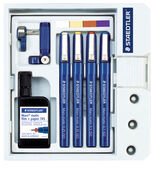 Mars® matic 700
Technical pen
Set containing 4 technical pens, line width 0.25, 0.35, 0.5, 0.7, compass adapter, drawing ink bottle 745 R-9 and template attachment for simplifying work with templates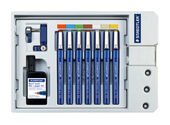 Mars® matic 700
Technical pen
Set containing 7 technical pens, line width 0.2, 0.3, 0.4, 0.5, 0.6, 0.8, 1.0, compass adapter and drawing ink bottle 745 R-9; with template attachment for simplifying work with templates
Mars® matic 700
Technical pen
Set containing 9 technical pens, line width 0.1, 0.2, 0.3, 0.4, 0.5, 0.6, 0.8, 1.0, 1.2, compass adapter and drawing ink bottle 745 R-9; with template attachment for simplifying work with templates

Mars® matic 700
Technical pen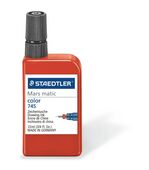 Mars® matic 745
Drawing ink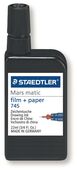 Mars® matic 745 M
Drawing ink for film + paper
Single product black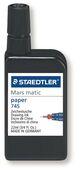 Mars® matic 745 R
Drawing ink for paper
Single product black

Mars® matic 750
Spare drafting point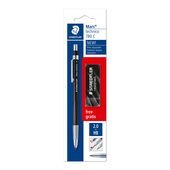 Mars® technico 780
Leadholder
Blistercard containing 1 Mars technico, 1 Radierer als Gratiszugabe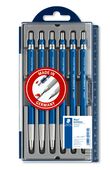 Mars® technico 780
Leadholder
Plastic box containing 6 Mars technico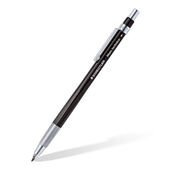 Mars® technico 780
Leadholder
Drawing with ink is a widely used technique employed by professionals and artists. Technical pens have stable tips thanks to modern chrome-plated tubes, making them an excellent tool for architects and draftsmen. Our product range includes not only refillable technical pens and suitable drawing ink, but also the right accessories for achieving outstanding results.
High-quality technical pens and drawing ink for professional work
Draftsmen, architects, cartographers and artists all rely on high-quality technical pens for professional drawing and design work. In the past, drawing pens were used to draw with ink, however modern technical pens with hard chrome drafting tubes now enable you to achieve maximum precision.
The STAEDTLER Mars matic technical pen
The STAEDTLER Mars matic is an excellent choice for drawing with ink on drawing board and drawing paper because it offers the following features:
Steady ink flow thanks to an ink collector system.
No drying up of ink thanks to the double sealing system in the cap.
This technical pen is available in 9 assorted standard line widths, so it can be ideally adapted to your specific needs.
The standard line widths are ISO and DIN colour coded.
Technical pens are suitable for work on drafting and tracing paper as well as matt drafting film using drawing ink 745 M-9.
How is the ink applied to the paper?
A channel inside the technical pen ensures optimum pressure equalisation. At the same time, a movable drop weight controls the steady flow of drawing ink onto the paper via a tube located at the tip of the pen. This results in a consistent line width which is determined by the diameter of the tube. The ink itself offers the following features:
Drawing ink is an aqueous liquid to which colour pigments are added, primarily black soot.
Drawing ink is:
- Waterproof
- Lightfast
- Has excellent reproduction qualities
Refillable ink for drawing
Once the ink has been used up, there are two ways you can refill the pen:
Quick and easily replaceable black cartridges.
22 ml bottles in black and red.
Tip: The black ink (745 M2-9) is also suitable for use on film. The red ink has excellent reproduction qualities, so it is particularly suitable for making copies.
Important: If it's going to be a while until you use your technical pen again, make sure you empty and clean it first; otherwise, it will not write when you next go to use it. Simply run water through the pen and give it a good shake. Test whether the pen has been emptied of ink by repeating the process until the pen doesn't leave any marks behind on paper. Store the pens horizontally. Technical pen inks should be used up within 2 years.
Excellent accessories to meet a wide range of drawing needs
The STAEDTLER Mars matic also comes in a set:
With four or seven assorted line widths
A technical pen compass adapter
A refill bottle of drawing ink
A template attachment for working with lettering guides or a ruler
Tip: When working with a compass, the compass requires a screw thread to attach to the technical pen. The drawing tip must be positioned vertically on the paper. We recommended using a special compass with technical pens, such as the Mars professional 555 03.
Products from other manufacturers are not always compatible with one another.
With the right equipment, you'll have a comprehensive technical drawing set for the office, professional work or a master class.