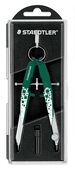 Mars® comfort 556
Precision geometry compass
Plastic case with hinged lid containing 1 compass metallic green with spares box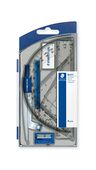 Noris® 550
School compass
Case with hinged lid containing 1 compass, 1 sharpener 510 50, 1 eraser, 1 small pencil, 2 set squares, 1 ruler 15 cm and 1 protractor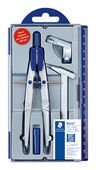 Noris® 550 01/02
School compass metal
Case with hinged lid containing compass, extension bar, universal adapter and lead box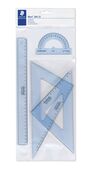 Mars® 569
Geometry Set
Plastic bag containing 1 ruler 30 cm, 1 protractor, 1 set square 567 26-60, 1 set square 567 26-45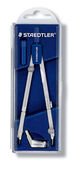 Mars® basic 554
Compass
Case with hinged lid containing 1 compass with lead part, universal adapter and spares box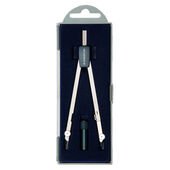 Mars® basic 559
Compass
Plastic case with hinged lid containing 1 compass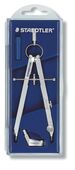 Mars® comfort 551
Precision compass
Case with hinged lid containing 1 precision compass with lead part, universal adapter and spares box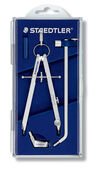 Mars® comfort 551
Precision compass
Case with hinged lid containing 1 precision compass with lead part, extension bar, universal adapter and spares box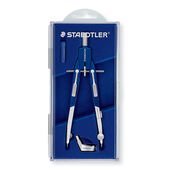 Mars® comfort 552
Quick-setting compass
Case with hinged lid containing 1 quick-setting compass with lead part, universal adapter and spares box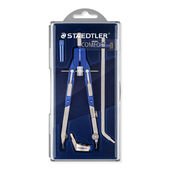 Mars® comfort 552
Quick-setting compass
Case with hinged lid containing 1 quick-setting compass with lead part, extension bar, universal adapter and spares box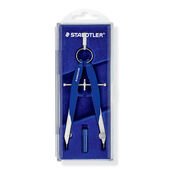 Mars® comfort 556
Precision geometry compass
Plastic case with hinged lid containing 1 compass with spares box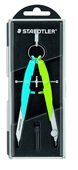 Mars® comfort 556
Precision geometry compass
Plastic case with hinged lid containing 1 compass, neon edition blue/green
At STAEDTLER, our product range includes a large selection of high-quality compasses. Our models are particularly sturdy, providing the ideal basis for creating precise drawings at school and in professional applications. We offer products that meet various requirements, from solid metal to sturdy plastic/metal designs. Our compasses are also available in compact sets with practical accessories.
How are compasses constructed and what can they be used for?
Compasses are drawing instruments that are primarily used to perform the following tasks in geometry:
To draw a circle around a point.
To transfer distances precisely.
These versatile drawing instruments essentially consist of two legs. These are usually made of metal. The legs are connected together at the top by a hinge, allowing them to move flexibly. Compasses also have a crossbar at the upper end where the legs meet with opposite-running threads. Compasses with a spindle guide have a wheel in the centre that can be adjusted with one hand. You can turn this in different directions to spread or close the legs. This allows you to quickly and easily adjust the compass to the desired position.
There is also a needle at the bottom of one leg to secure the compass to a surface. At the end of the other leg, there is a replaceable lead for drawing circles or segments on paper. There are also models with an adapter for attaching a short pencil instead of the integrated lead. If you secure one leg to a surface, you can then determine the radius of a circle by setting the distance of the second leg.
A wide choice of very sturdy compasses for different requirements
The school compasses (models 550 50, 550 55, 550 60, 559 WP 00) in our product range are specifically designed for younger children. These extra-safe precision compasses have a blunt safety needle to prevent injury.
Our precision geometry compasses are ideal for geometry class at school as well as for technical drawing. These sturdy plastic and metal or solid metal models include a spindle guide consisting of a spring-bow head and centre wheel. On some models, the lead and needle legs are hinged.
Particularly easy to use, quick-setting compasses feature a spindle-guided push-button mechanism in addition to a spring-bow head and centre wheel. As a result, you can quickly set the compass legs as desired by pressing the button with your finger. This makes it much easier and faster to set circle radii.
Practical compass sets for school, hobbies and professional use
Our STAEDTLER compasses are also available in a plastic case with a hinged lid. Depending on the model, this includes a lead box with four HB leads as well as practical accessories for school and professional use:
Universal adapter to attach other writing instruments
Extension bars for drawing even larger circles
Technical pen adapter on the compass for technical drawing
We also offer practical sets that are specifically aimed at children starting school. Depending on the model, these consist of:
Compass
Sharpener
Eraser
Pencil
Set squares
Ruler
Protractor
If you are looking for a compass set to draw mandalas, you are sure to find the ideal solution in this category. We offer practical mandala sets that contain a quick-setting drawing compass along with the right accessories to create fantastic patterns, including drawing pencils, fineliners and lots more.