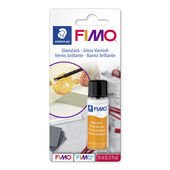 FIMO® 8703
Gloss varnish
Blistercard containing 1 bottle of water-based gloss varnish, 10 ml and brush in cap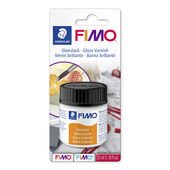 FIMO® 8704
Gloss varnish
Blistercard containing 1 jar of gloss varnish, 35 ml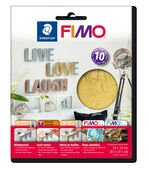 FIMO® 8781
Leaf metal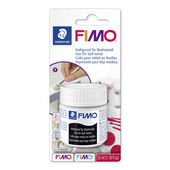 FIMO® 8782
Size for leaf metal
Blistercard containing 1 jar of size for leaf metal, 35 ml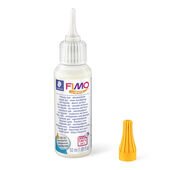 FIMO® liquid 8050
Oven-bake liquid gel
In this category, we offer a broad selection of creative accessories for use with FIMO modelling clay – for sanding, varnishing and refining your FIMO creations. For example, add an exquisite finish to your figures and sculptures with our FIMO varnishes or create some stunning effects with FIMO leaf metal. With our texture sheets and moulds, it couldn't be easier to create detailed textures and figures. Let your creativity and imagination run free with our comprehensive range of accessories for FIMO surface treatment.
FIMO surface treatment with detailed texture sheets
Our detailed texture sheets for FIMO surface treatment are the perfect way to add texture to FIMO surfaces. Use them to create stunning patterns and ornaments in no time at all in the following looks:
Oriental
Baroque
Wood
Lace trim
and much more
The hard-wearing FIMO texture sheets are made from flexible plastic and are really easy to use. Simply roll out a layer of FIMO. Then press the texture sheet onto the modelling clay and lift it away. And you're done! The products are suitable for oven-hardening types of FIMO as well as air-drying FIMOair.
Make custom gift tags and FIMO figures for every occasion
If you want to create particularly intricate figures or a whole series of identical objects from FIMO, we recommend using the special moulds from STAEDTLER. Whatever the occasion or style, our range for FIMO surface treatment includes:
Christmas motifs which you can use to make exquisite advent and Christmas decorations.
Fun animal motifs to decorate your child's bedroom.
Romantic motifs, such as roses or hearts, which are great for making custom gift tags that add a really personal touch to any gift.
Simply press the clay into the mould. It's really easy to remove items from the mould. Now you will be making creative items from FIMO in no time at all.
Products for a stunning surface finish
Our FIMO varnish creates a beautiful finish while optimally protecting the surface of your modelled item. The product is water-based and transparent when dry. For example, if you're wanting to create a brilliant, high-gloss effect with FIMO surface treatment, for best results (after smoothing the surface using a FIMO sanding sponge) apply FIMO gloss varnish. Alternatively, for a matt FIMO surface, you should ideally use our FIMO semi-gloss varnish.
Our leaf metal is also particularly good for decorating FIMO and producing stunning surface effects. To apply it to a FIMO element, proceed as follows:
After hardening, apply our special adhesive for leaf metal to the FIMO surface. This will ensure that the leaf metal adheres to the modelling clay better later on. Leave the adhesive to dry for approx. 15 minutes.
Carefully place the leaf metal on the FIMO surface and dab it with a large, soft stippling brush. Then brush away the excess.
Finally, it is also a good idea to seal FIMO leaf metal using our special varnish for leaf metal to prevent it from flaking off. It also gives the FIMO surface a really beautiful, glossy finish.
Detailed instructions can also be found in our guide: "FIMO - a guide to creating striking patterns"