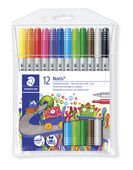 Noris® 320
Double ended fibre-tip pen
Wallet containing 12 double ended fibre-tip pens in assorted colours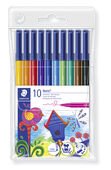 Noris® 326
Fibre-tip pen
Wallet containing 10 fibre-tip pens in assorted colours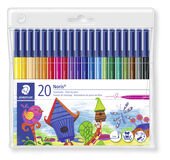 Noris® 326
Fibre-tip pen
Wallet containing 20 fibre-tip pens in assorted colours

Noris® 326
Fibre-tip pen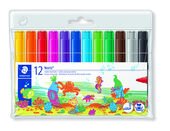 Noris® 340
Jumbo fibre-tip pen
Wallet containing 12 jumbo fibre-tip pens in assorted colours
STAEDTLER® 3001
Double-ended watercolour brush pen
Wallet containing 18 double-ended watercolour brush pens in assorted colours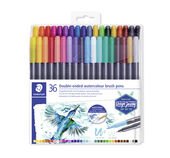 STAEDTLER® 3001
Double-ended watercolour brush pen
Wallet containing 36 double-ended watercolour brush pens in assorted colours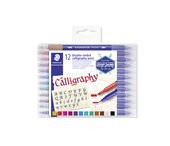 STAEDTLER® 3005
Double-ended calligraphy pen
Wallet containing 12 double-ended calligraphy pens in assorted colours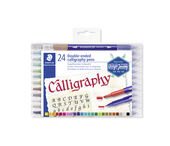 STAEDTLER® 3005
Double-ended calligraphy pen
Wallet containing 24 double-ended calligraphy pens in assorted colours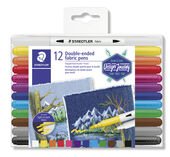 STAEDTLER® 3190
Double-ended fabric pen
Wallet containing 12 double-ended fabric pens in assorted colours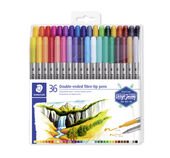 STAEDTLER® 3200
Double-ended fibre-tip pen
Wallet containing 36 double-ended fibre-tip pens in assorted colours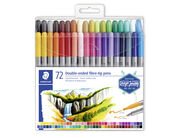 STAEDTLER® 3200
Double-ended fibre-tip pen
Wallet containing 72 double-ended fibre-tip pens in assorted colours
When armed with the right fibre-tip pen, it's not just children who get a lot of fun out of colouring. Adults will also really enjoy using this medium, as the brilliant colours make fibre-tip pens an attractive option. Since the ink is water-based, it washes easily out of most textiles. In our range, you will find a great selection of fibre-tip pens for all sorts of applications – for amateur artists both big and small. Browse our range of products to find the right high-quality fibre-tip pen to suit your individual needs.
What are fibre-tip pens?
The fibre-tip pen has been around since 1952, when it was invented by Sidney Rosenthal in the USA. Originally called a "Magic Marker", it remains exactly that to this day for many artists big and small. Fibre-tipped pens are now available in countless bold and pastel colours, and even neon shades. Users have come to appreciate fibre-tip pens for their particular characteristics:
High colour intensity
Wash easily out of most textiles
Wide choice of colours
How should I store fibre-tip pens?
It is best to store fibre-tip pens horizontally. Our STAEDTLER Noris fibre-tip pens therefore come in a classic wallet and are available as a set in packs of 6, 10, 12 or 20 pens, for example. Our premium triplus color fibre-tip pens are available in a stand-up STAEDTLER box in packs of 6, 10 or 20 pens or in a metal case in packs of 15, 30 or 50 pens. Fibre-tip pens are usually able to withstand significant variations in temperature. You can therefore take them on holiday with you for your children to enjoy or pop them in your bag to pass the time creatively.
How can I make fibre-tip pens colour again?
If your fibre-tip pens have run out, the frequently suggested trick of filling them with water will not do much, unfortunately. However, our STAEDTLER fibre-tip pen range offers long-term stability, which means that you will be able to buy replacements of your favourite colours any time.
What can you do if your fibre-tip pen has dried up because you forgot to replace the cap? In this case you can try to revive it with a little water. However, this doesn't always work. Always make sure you replace the cap properly when using your pens so that you get to enjoy their intensive colours for a long time to come.
Tip: STAEDTLER Noris fibre-tip pens, as well as our triplus color pens, feature the special Dry Safe System. These fibre-tip pens can be left uncapped for days without drying up.
When can fibre-tip pens be used?
Fibre-tip pen

Uses

Advantages

STAEDTLER Noris fibre-tip pen

Colouring
Writing
Available in a classroom pack containing 144 fibre-tip pens in 12 assorted colours

Pressure-resistant tip
Dry Safe
Up to 24 bright colours

STAEDTLER Noris jumbo fibre-tip pen

For use by children to colour large areas
Also available as a class pack

Pressure-resistant tip
Washes easily out of many textiles

STAEDTLER triplus color

Pressure-resistant tip
Dry Safe
Washes easily out of most textiles
Available in the practical stand-up STAEDTLER fibre-tip pen box
Up to 48 assorted colours

Tip: STAEDTLER triplus color pens have a triangular shape. This allows the pen to be optimally held between your thumb and index finger. In this position, minimal effort is needed to hold the pen securely. Triangular fibre-tip pens are therefore particularly suitable for those learning to write and colour, as well as those who do a lot of writing.
Tip: If you are following the current mandala trend, along with a few pretty images for colouring, you will also need the right accessories: from coloured pencils and graphite pencils to fineliners, which writing instruments you use ultimately comes down to personal preference. Fibre-tip pens are also particularly suitable for mandalas, as they allow very precise colouring. They also have a high colour intensity and uniform colour gradient.
How are fibre-tip pens made?
The casing of the fibre-tip pen is made from plastic granulate and is formed by being pressed into the desired pen mould.
The pen name, manufacturer and colour type are printed onto the barrel of the pens.
A soft core, which acts as an ink reservoir, is inserted into the pen casing. The pen's tip and cap are also fitted.
A machine injects around 1.5 g of ink into the reservoir. Very specific regulations apply here: the ink must be non-toxic. This means that children will not be harmed if they happen to put the pen in their mouth, for example.
The cap fitted to the pen prevents it from drying out.