Lumocolor® permanent omnigraph 236
Waterproof universal crayon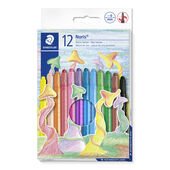 Noris® 221
Wax twister
Cardboard box containing 12 wax twister in assorted colours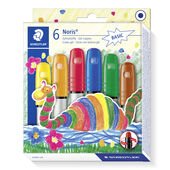 Noris® 2390
Gel crayon
Cardboard box containing 6 gel crayons in assorted colours
Noris® 2390
Gel crayon
Cardboard box containing 6 gel crayons in assorted basic effect colours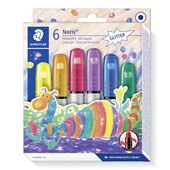 Noris® 2390
Gel crayon
Cardboard box containing 6 gel crayons in assorted metallic colours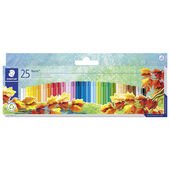 Noris® 241
Oil pastel crayon
Cardboard box containing 25 oil pastel crayons in assorted colours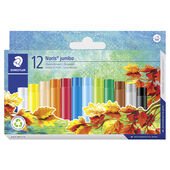 Noris® jumbo 243
Oil pastel crayon
Cardboard box containing 12 oil pastel crayons in assorted colours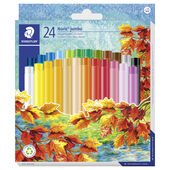 Noris® jumbo 243
Oil pastel crayon
Cardboard box containing 24 oil pastel crayons in assorted colours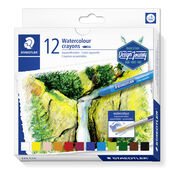 STAEDTLER® 223
Watercolour crayon
Cardboard box with 12 crayons in assorted colours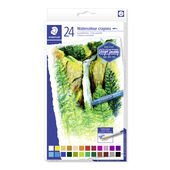 STAEDTLER® 223
Watercolour crayon
Cardboard box with 24 crayons in assorted colours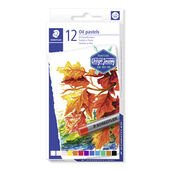 STAEDTLER® 2420
Oil pastel
Cardboard box containing 12 oil pastels in assorted colours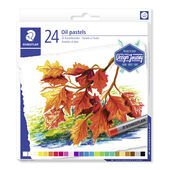 STAEDTLER® 2420
Oil pastel
Cardboard box containing 24 oil pastels in assorted colours
Crayons allow you to put brilliant colours on paper, creating highly artistic drawings. Soft pastel chalk, in particular, has excellent blending qualities, thereby enabling you to produce effective transitions of shade. Even the youngest among us can start experimenting with wax crayons to develop a feel for the medium. Browse through the comprehensive range of products available from STAEDTLER. Discover the wide range of possibilities that crayons offer when it comes to colouring and drawing.
High-quality crayons in brilliant colours
Crayons are made using colour pigments that are pressed or poured into a corresponding mould along with a binding agent. Depending on how much binding agent is added during the manufacturing process, the crayon will have more or less of a powdery texture. Oil pastels are dust-free compared to soft pastel chalks as they contain oil, which means the colour sticks to the paper more easily. In contrast, soft pastel chalks apply colour with a more powdery texture, enabling the artist to spread or blend the colour on paper.
How to properly use chalk pastels
STAEDTLER karat soft pastel chalk is available in a square stick format. This allows you to not only colour with the flat surface, but also add subtle accents with the edges. In addition, soft pastel chalks have the following properties:
You can blend them with your finger after application. This allows you to create new colours and unique colour transitions.
Pastel colours provide great coverage.
This medium produces velvety, matt results.
The colours have an intense luminosity.
The pastels are paper-wrapped to keep your hands as clean as possible.
The pastels are particularly break-resistant.
Keep the following in mind when colouring with chalk pastels:
Always use your finger to blend the colour, never use a cloth or anything similar. A cloth would absorb too much colour and cause the result to look faded on the paper.
Tip: Special paper stumps are available from STAEDTLER, which enable you to produce particularly effective transitions of shade.
For shading, apply dark colours over light colours.
If you would like to apply more than two colours on top of one another, you should fix them first. This is necessary to ensure that the pastel will adhere properly (otherwise, multiple layers of colour would not stick).
When you mix chalk pastels, the result is often less intense. To prevent this, you should invest in a set of pastels that has at least 12 assorted colours.
After using pastels, you always need to spray your artwork with a fixative; otherwise, the colour pigments will not stay on the paper.
How to properly use oil pastels
Oil pastels contain a certain amount of fat. This ensures that they adhere properly to all smooth surfaces. However, this means that they are not as easy to blend as chalk pastels.
The colours of oil pastels are less luminous than those of chalk pastels. This is because the paper shines through less due to the consistency of the pastel.
For this reason, they are particularly suitable for colouring backgrounds.
Oil pastels do not need to be fixed.
Tip: Children love colouring with crayons. Jumbo-sized oil pastels are also available from STAEDTLER. Designed specifically for children's small hands, these are ideal for colouring large areas. They can be used for colouring, over-colouring and scraping techniques.
A classroom set is available comprising 144 crayons in 12 assorted colours.
First attempts and the thrill of colouring with wax crayons
Children are fascinated by the possibility of putting colours and shapes on paper using drawing implements. They start out by experimenting with wax crayons in kindergarten. These are particularly break-resistant, which makes them suitable for small children, who sometimes press down too hard because their fine motor skills are still developing.
Various techniques can be used with wax crayons:
Encaustic art
Drop technique
Sgraffito
Ironing technique
Since wax crayons are commonly used in schools, STAEDTLER crayons include a name field. This means that classmates won't get their crayons mixed up with another's.
Budding artists can also produce great results with gel crayons. They are easy to use: simply remove the cap, twist and colour. With gel crayons, children can colour on glass and other smooth surfaces. They are available in a variety of designs:
Basic colours
Basic effect colours
Pastel colours
Glitter colours