Mars® ergosoft® 150
Graphite pencil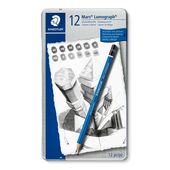 Mars® Lumograph® 100
Drawing pencil
Metal case containing 12 drawing pencils in assorted degrees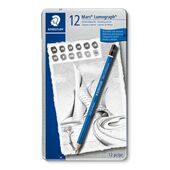 Mars® Lumograph® 100
Drawing pencil
Metal case containing 12 drawing pencils in assorted degrees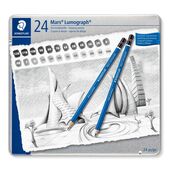 Mars® Lumograph® 100
Drawing pencil
Metal case containing 24 drawing pencils in assorted degrees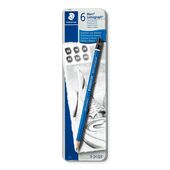 Mars® Lumograph® 100
Drawing pencil
Metal case containing 6 drawing pencils in assorted degrees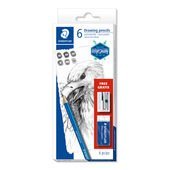 Mars® Lumograph® 100
Drawing pencil
Cardboard box containing 6 drawing pencils in assorted degrees, 1 eraser and 1 metal sharpener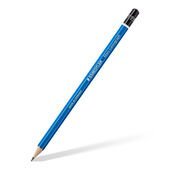 Mars® Lumograph® 100
Drawing pencil
Single product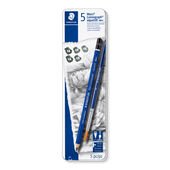 Mars® Lumograph® aquarell 100A
Watercolour graphite pencil
Metal case containing 5 watercolour graphite pencils in assorted degrees and 1 round brush #8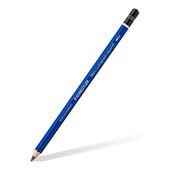 Mars® Lumograph® aquarell 100A
Watercolour graphite pencil
Single product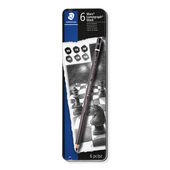 Mars® Lumograph® black 100B
Drawing pencil
Metal tin containing 6 drawing pencils in assorted degrees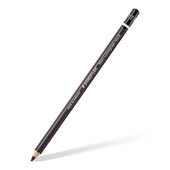 Mars® Lumograph® black 100B
Drawing pencil
Single product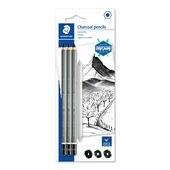 Mars® Lumograph® charcoal 100C
Charcoal pencil
Blistercard containing 3 charcoal pencils in assorted degrees and 1 paper stump
At STAEDTLER, we offer high-quality pencils for every application in all conceivable hardness grades:
Very soft pencils for drawing (12B–3B)
Pencils in classic hardness grades for writing and sketching (2B, B, HB, H, 2H)
Very hard pencils for technical drawing and cartography (3H–10H)
Every user will find the right pencil for their specific needs in our range – from our ergonomically shaped learner's pencils through our premium-quality artists pencils to our carpenter pencils. Discover our selection of pencils in various hardness grades, also available in a practical set.
Truly classic pencils in proven STAEDTLER quality
The STAEDTLER Noris pencil is one of our absolute classics. Its iconic black and yellow stripes are instantly recognisable. Millions of people have used this pencil to learn to write, make notes, write letters, draw and sketch. It is available in the standard pencil hardness grades (2B–2H). The different-coloured ends indicate the hardness grade of your STAEDTLER pencil.
Thanks to their super-bonded lead, our pencils guarantee high break-resistance and are therefore ideal for use at school and in the office. The red and black striped models from our traditional series offer comparable quality to our Noris pencils. They are available in a wider range of finely graded degrees of hardness; however, unlike our classic Noris pencil, the dipped end is not colour coded. Our tradition pencils are particularly suitable for producing clean lines and textures, as well as differentiated tones from grey to black.
Alternatively, our pencils are also available with an eraser in the form of a practical eraser tip.
Premium-quality products for artistic applications
Our premium-quality Mars Lumograph pencils are primarily aimed at artists and are perfect for:
Drawing
Sketching
Shading
Other graphic and artistic applications
The special lead formulation of our artists pencils provides results with a metallic lustre in a wide variety of grey tones for expressive sketches and drawings.
To complement our standard drawing pencils, which are characterised by lead with a silvery lustre, the Mars Lumograph black (available in six hardness grades) has a high proportion of carbon and is recommended for matt, jet black results.
It is therefore suitable for artists, particularly for drawing and shading, as well as for expressive sketches and portraits.
Our range of pencils also includes the Mars Lumograph aquarell high-quality watercolour artists pencils. These watercolour pencils are ideal for classic drawings and sketches in watercolour. The Lumograph aquarell is available in three graded consistent degrees of hardness and is therefore particularly suitable for creating a variety of grey and black tones in conjunction with water.
Easy-grip, ergonomically shaped pencils for learners and those who spend a lot of time writing
Our STAEDTLER ergosoft pencils have an innovative soft surface and ergonomic triangular shape. This means that they always sit comfortably in the hand and do not slip when writing. They are ideal learners' pencils for children.
The jumbo pencils from STAEDTLER have a thicker lead than standard products. The jumbo triangular shape with ergonomic soft surface is particularly suitable for small children's hands. Thanks to its non-slip grip, the Mars ergosoft jumbo pencil is ideal for children's first writing exercises in primary school. Children can then switch to a slightly thinner Mars ergosoft pencil as they progress in school.
Our pencils in ergonomic triangular shape are ideal for all learners and those who spend a lot of time writing.
Ecological manufacturing thanks to innovative WOPEX technology
With our Noris eco, made from innovative WOPEX material, we have revolutionised the pencil and its manufacturing process. Our Noris eco pencils are produced using a newly developed, innovative technology: WOPEX (Wood Pencil Extrusion). Rather than bonding pieces of wood together in several stages, as in the case of traditional graphite and coloured pencils, pencils made from WOPEX are produced in a mould. In this case, all materials required for the production of pencils are pressed together in the form of granules to form a sort of continuous pencil. Thanks to WOPEX technology, these products can be produced in a more environmentally friendly and resource-conserving way.
It goes without saying that we not only guarantee improved handling with our Noris eco pencils, but also the same level of quality you can expect from all of our other products. These pencils feature our usual high degree of break-resistance and, thanks to their smooth gliding lead, enable a unique writing experience.
Environmentally friendly manufacturing of pencils
STAEDTLER pays close attention to ensuring that environmentally friendly solutions are used in the production of its pencils:
PEFC standard (PEFC/04-31-1227)
FSCTM standard (FSC™ C007132)
STAEDTLER sets high standards, especially for the sourcing and processing of wood, which is one of the most important raw materials in the manufacturing of wood-cased pencils. This is why STAEDTLER is certified for the production and sale of wood-cased pencils in accordance with current FSC and PEFC standards (chain of custody/CoC certification). Certification underlines STAEDTLER's commitment to safeguarding the environment and our responsible approach to the use of wood, our indispensable raw material. At STAEDTLER we apply, and will continue to apply, our environmental philosophy to all production processes in order to ensure sustainable quality of life and to protect the environment.
Products for digital users
In this age of digitalisation, do people still reach for a pencil?
Even digital users will find what they are looking for in our range. The STAEDTLER Noris digital combines the appeal and feel of a pencil with the technology of an S Pen stylus.
This ergonomic, inductive pen is made from innovative WOPEX material, and allows you to write and draw creatively straight onto your screen – whether it's on your mobile phone, tablet or notebook. The line width can be varied depending on the pressure applied when writing or drawing. Shading is also possible. Another major advantage of the Noris digital is that this stylus pencil will never need charging. It is therefore always ready for use – there is no better solution imaginable when it comes to drawing and making notes.
The Noris digital brings tradition and innovation together – in a single product.
The STAEDTLER Noris digital is compatible with a wide range of smartphones, tablets and notebooks.