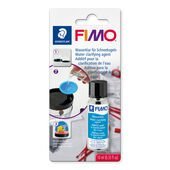 FIMO® 8603
Water clarifying agent for snow globes
Blistercard containing 1 bottle of 10ml with brush in cap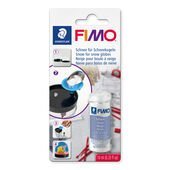 FIMO® 8613
Snow for snow globes
Blistercard with glass bottle à 4 g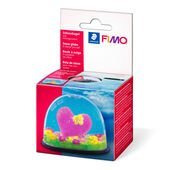 FIMO® 8629
Snow globe
Cardboard box with 1 snow globe (oval), Dimension: approx. 70 x 52 mm, detailed instructions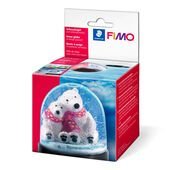 FIMO® 8629
Snow globe
Cardboard box with 1 snow globe (round), Dimension: approx. 86 x 75 mm, detailed instructions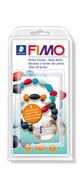 FIMO® 8712
Bead rollers
Set containing bead roller for 3 different shapes of beads incl. detailed brochure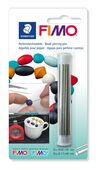 FIMO® 8712 20
Bead piercing needles
Blistercard containing 50 bead piercing pins
FIMO jewellery accessories from STAEDTLER offer beginners as well as professionals a wide range of materials for making beautiful accessories. It couldn't be easier to make your own stunning and unique pieces of jewellery. Find the appropriate accessories, enjoy your time crafting and take delight in the beautiful results you can achieve.
FIMO jewellery accessories for that wow factor
Beautiful and unique accessories that complement your outfit and complete your look – you can now make them yourself very easily with FIMO jewellery accessories and admire the finished result.
Create your own delicate beads using a bead roller.
Special bead-piercing pins make it easier to pierce holes in the beads.
Using FIMO modelling clay and the appropriate accessories, you can craft stunning pieces of jewellery that truly have the wow factor. Whether you wear the jewellery yourself or surprise some else with a gift.
Delicate handmade pieces of jewellery
Do you already have your own ideas in mind that you would like to transform into creative jewellery accessories? Using the FIMO bead roller, you can very easily make beads of the same size in a variety of different shapes:
Bicone-shaped
Olive-shaped
Ball-shaped
Special bead-piercing pins can be used to pierce holes cleanly in beads that have not yet hardened – without causing any deformation. The pins are available in two diameters (0.8 mm and 1.7 mm) for small and large holes.