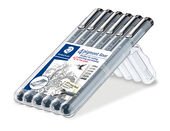 pigment liner 308
Fineliner
STAEDTLER box containing 6 pigment liner black in assorted line widths (0.05, 0.1, 0.2, 0.3, 0.5, 0.8)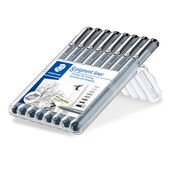 pigment liner 308
Fineliner
STAEDTLER box containing 8 pigment liner black in assorted line widths (0.05, 0.1, 0.3, 0.5, 0.7, 1.0, 1.2, 0.3-2.0)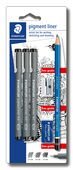 pigment liner 308
Fineliner
Blistercard containing 3 pigment liner black in assorted line widths (0.3, 0.5, 0.7) and 1 eraser Mars plastic 526 53, 1 sharpener 510 10, 1 blacklead pencil 100-2B for free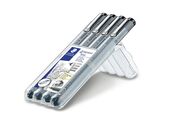 pigment liner 308
Fineliner
STAEDTLER box containing 4 pigment liner black in assorted line widths (0.1, 0.3, 0.5, 0.7)

pigment liner 308
Fineliner
Blistercard containing 1 pigment liner black, line width approx. 0.1 mm

pigment liner 308
Fineliner
Blistercard containing 1 pigment liner black, line width approx. 0.2 mm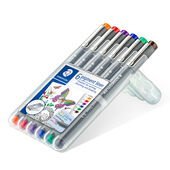 pigment liner 308
Fineliner
STAEDTLER Box containing 6 pigment liner in assorted colours (orange, red, violet, blue, green, brown), line width approx. 0.3 mm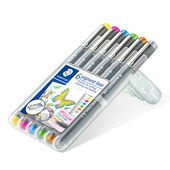 pigment liner 308
Fineliner
STAEDTLER Box containing 6 pigment liner in assorted colours (yellow, fuchsia, light blue, light green, light brown, grey), line width approx. 0.3 mm

pigment liner 308
Fineliner
Blistercard containing 1 pigment liner black, line width approx. 0.4 mm

pigment liner 308
Fineliner
Blistercard containing 1 pigment liner black, line width approx. 0.5 mm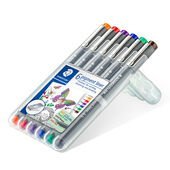 pigment liner 308
Fineliner
STAEDTLER Box containing 6 pigment liner in assorted colours (orange, red, violet, blue, green, brown), line width approx. 0.5 mm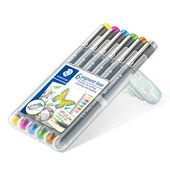 pigment liner 308
Fineliner
STAEDTLER box containing 6 pigment liner in assorted colours (yellow, fuchsia, light blue, light green, light brown, grey), line width approx. 0.5 mm
Fineliners are characterised by their fast-drying ink, which does not smudge on paper. The triangular barrel of the triplus fineliner is designed to ensure a comfortable writing experience, especially for those who do a lot of writing. The pigment liner is a special indelible fineliner from STAEDTLER and is the ideal choice for a wide range of office applications. However, fans of artistic handlettering will also find what they need at STAEDTLER. Take a look at our range!
Interesting facts about fineliners
Fineliners contain an ink reservoir.
When writing, ink is applied to the paper by the pen tip.
How long a fineliner will last depends on the roughness of the paper: the rougher the surface, the faster the tip will wear out.
The classic model: STAEDTLER triplus fineliner 334
Its countless features make the STAEDTLER triplus 334 a true classic:
Thanks to its ergonomic triangular shape, this fineliner is particularly suitable for those who do a lot of writing. This design means that the pen sits comfortably in the hand. This ensures a pleasant writing experience without having to apply a lot of force or pressure.
It has a very fine tip with a line width of 0.3 mm.
It uses water-based ink. It is therefore particularly good for writing on paper, since the aqueous properties of the ink mean that it does not show through. Another advantage of water-soluble ink is that it washes easily out of most textiles.
The fineliner is available in 48 assorted colours, so you are sure to find the right colour. These colours are available to purchase individually or in a set.
The indelible fineliner
With the pigment liner 308, STAEDTLER has introduced a product to the market that is suitable for sketching and drawing, but above all writing. The main advantage of this pen is that it uses an indelible pigment ink. It is therefore resistant to:
Acid
Water
Alcohol
UV radiation
The STAEDTLER pigment liner offers the following additional features:
It has a long, metal-clad tip, making it ideal for use with lettering guides, especially the STAEDTLER Mars 572 F lettering guide.
It can be erased from drafting paper using an abrasive eraser (e.g. STAEDTLER rasoplast).
The pigment liner is available in the practical stand-up STAEDTLER box. This is particularly useful when working at a desk, as the pens can be neatly sorted in the fineliner box, providing a good overview of the various line widths available. The pens can also be easily removed from the stand-up box and put back in the right place.
CAP OFF technology: this means that the fineliner can be left uncapped for at least 12 hours without drying up.
The pigment liner is available in 12 line widths with black ink. The pigment liners are also available in six colours with a line width of 0.3 mm and 0.5 mm.
Always have the appropriate writing instrument to hand with our mobile office set
Whether on the go or in the office, with the STAEDTLER triplus mobile office 34 set, you will always have the appropriate writing instrument to hand for every situation. The set contains:
One triplus fineliner in black
One triplus ball ballpoint pen M in black
One triplus micro mechanical pencil (line width: 0.5 mm)
One triplus textsurfer highlighter in yellow
All of the items in the set feature our ergonomic triangular design, allowing them to be optimally held between your thumb and index finger. This ensures a pleasant and above all reliable writing experience.
Let's write things – Handlettering
In today's modern world, we're increasingly using e-mail, SMS or WhatsApp to send messages. With communication being quick and easy, the advantages are clear. However, it would be a real shame if we no longer wrote anything by hand. Who wouldn't be happy to receive a personalised greeting card on their birthday, to read the beautiful messages written in the guestbook from their wedding or to have an elaborately decorated photo collage on their wall? Handlettering is an artistic style of writing that anyone can learn with our step-by-step handlettering tutorial. You will find the perfect writing instruments for handlettering in the STAEDTLER range.
Our neon and pastel fineliners are a great addition to the fineliners available in everyday colours. There are no longer any limits to the creative possibilities of the art of writing.