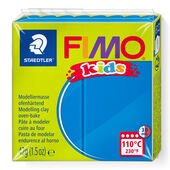 FIMO® kids 8030
Oven-bake modelling clay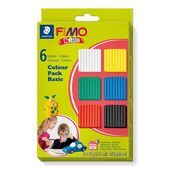 FIMO® kids 8032
Oven-bake modelling clay
Colour Pack "Basic", 6 blocks à 42 g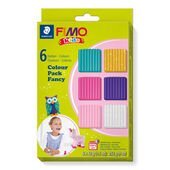 FIMO® kids 8032
Oven-bake modelling clay
Colour Pack "Fancy", 6 blocks à 42 g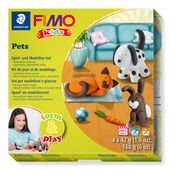 FIMO® kids 8034
Oven-bake modelling clay
Set "Pets" containing 4 blocks à 42 g (white, orange, brown, black), modelling stick, step-by-step instructions, cut out templates, playing surface, stickers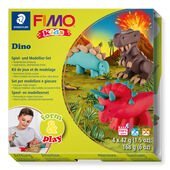 FIMO® kids 8034
Oven-bake modelling clay
Set "Dino" containing 4 blocks à 42 g (red, light brown, brown, green), modelling stick, step-by-step instructions, cut out templates, playing surface, stickers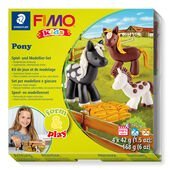 FIMO® kids 8034
Oven-bake modelling clay
Set "Pony" containing 4 blocks à 42 g (white, brown, glitter gold, black), modelling stick, step-by-step instructions, cut out templates, playing surface, stickers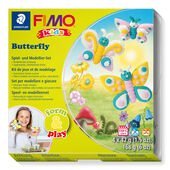 FIMO® kids 8034
Oven-bake modelling clay
Set "Butterfly" containing 4 blocks à 42 g (yellow, light pink, turquoise, glitter white), modelling stick, step-by-step instructions, cut out templates, playing surface, stickers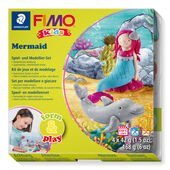 FIMO® kids 8034
Oven-bake modelling clay
Set "Mermaid" containing 4 blocks à 42 g (turquoise, pale pink, glitter silver, glitter pink), modelling stick, step-by-step instructions, cut out templates, playing surface, stickers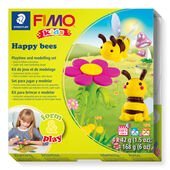 FIMO® kids 8034
Oven-bake modelling clay
Set "Happy Bees" containing 4 blocks à 42 g (yellow, light green, pink, brown), modelling stick, step-by-step instructions, cut out templates / playing surface, sticker, instruction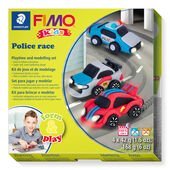 FIMO® kids 8034
Oven-bake modelling clay
Set "Police Race" containing 4 blocks à 42 g (glitter silver, blue, red, black), modelling stick, step-by-step instructions, cut out templates / playing surface, sticker, instruction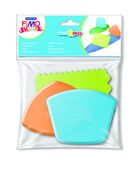 FIMO® kids 8700
work&play - Accessories
Set containing 3 different cutting tools in bright colours, facilitate portioning
Children love being creative and letting their imagination run free when crafting. By handling different materials, little ones train their fine motor skills and improve their ability to concentrate. Last but not least, they absolutely love seeing the what they have made. FIMO kids allows children to easily make figures from modelling clay themselves. After all the fun of crafting, they can start playing with the figures as soon as they have hardened. Choose the appropriate creative set for your child and give them a special treat!
Creative kneading fun for really enjoyable crafting and play with STAEDTLER FIMO kids
When children are in their creative phase, they immerse themselves completely in their own little world. They won't even notice how quickly time passes when painting or crafting. FIMO kids is a valuable educational material for your children, which fosters development during hours of creative play. There are various reasons why kneading and playing with FIMO kids is great for your child's development:
It trains their fine motor skills.
It allows them to immerse themselves in role-playing games with the shapes and figures they themselves have created.
It fosters creativity and imagination.
It supports the development of spatial perception.
Through the different levels of difficulty of the FIMO kids sets, your child experiences a sense of achievement, boosting their self-confidence.
Create your own toys
FIMO kids is a very soft modelling clay and is therefore ideal for children, as it is particularly easy to shape. The FIMO kids form and play range from STAEDTLER combines modelling and playtime fun for your little ones:
With various sets available in three levels of difficulty, children can model their own figures. From romantic princesses and fascinating marine creatures to crazy monsters and gallant knights – the range includes a colourful choice of themes that specifically address the individual interests of the child.
The instructions that are enclosed guide budding artists every step of the way.
The set also includes a background scene that can then be enjoyed during playtime.
Individual design possibilities with FIMO kids create & play
Alongside fun and games, the main aim of FIMO kids create & play sets is to give children the freedom to be creative. The instructions in these sets have been kept relatively short and concise so that children are inspired to incorporate their own designs. Special jewellery sets already include beads and cords.
Important product information for child-friendly play
FIMO kids has been specifically developed to meet the needs of children.
FIMO kids modelling clay is an oven-hardening clay. This means:
- The figures/shaped items are hardened in the oven to make them stable. However, the clay is only completely hardened once it has cooled down.
- The optimum oven temperature for hardening is 110°C.
- Leave the figures in the oven for 30 minutes
- Use an oven thermometer to check that the temperature is always accurate.
Tip: A suitable oven thermometer is also available in our range.
- The hardening process in the oven should always be supervised by an adult.
The packaging is resealable. In addition, the material can be covered with aluminium foil or stored in a screw-top jar for later use.