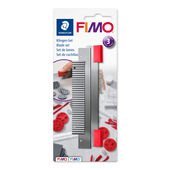 FIMO® 8700 04
Blades
Blistercard with mixed blade set, 3 pieces (1 rigid, 1 flexible and 1 serrated blade), 2 rubber grips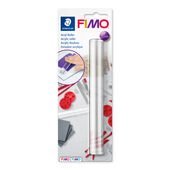 FIMO® 8700 05
Acrylic roller
Blistercard containing an Acrylic roller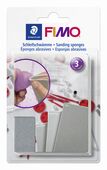 FIMO® 8700 08
Grind'n polish set
Blistercard Grind´n polish set, 3 different grades of sanding sponges (fine, superfine, microfine)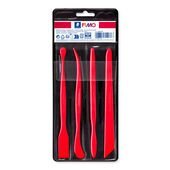 FIMO® 8711
Modelling tools
Wallet containing 4 different modelling tools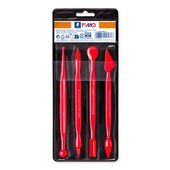 FIMO® 8711
Modelling tools
Wallet containing 4 different modelling tools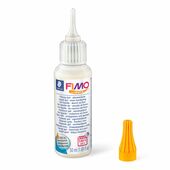 FIMO® liquid 8050
Oven-bake liquid gel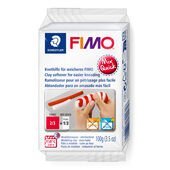 FIMO® mix quick 8026
Clay softener
Single product Clay softener, 100 g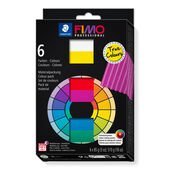 FIMO® professional 8003
Oven-bake modelling clay
Colour pack ''True Colours'' in cardboard box with 6 standard blocks à 85 g (white, true yellow, true red, true magenta, true blue, true green), 1 colour mixing leaflet, 1 instruction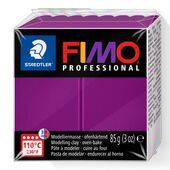 FIMO® professional 8004
Oven-bake modelling clay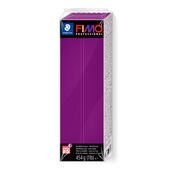 FIMO® professional 8041
Oven-bake modelling clay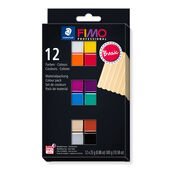 FIMO® professional 8043 C
Oven-bake modelling clay
Colour Pack ''Basic Colours'' in cardboard box with 12 half blocks à 25 g (assorted colours), 1 instruction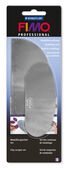 FIMO® professional 8700 15
Clay Scraper
Blistercard containing 2 blades
Compared to other types of FIMO, FIMO professional oven-hardening modelling clay has a much firmer consistency, making it even easier for you to create intricate items by hand. The oven-hardening modelling clay from STAEDTLER therefore also meets the highest requirements of professional FIMO users. It enables you to create highly detailed results and is therefore the ideal material for making jewellery, dolls and much more. Our high-quality modelling tools also help you bring your creative FIMO projects to life.
Modelling clay with excellent dimensional stability for professional users and true FIMO artists
FIMO professional is an oven-hardening modelling clay. As the product has a much firmer consistency compared to FIMO soft or FIMO kids, skilled FIMO designers will also benefit from the advantage of being able to create intricate items and sculptures that are dimensionally stable. FIMO professional is therefore particularly suitable for:
Adults
Advanced users
Amateur artists
Professionals
However, in addition to its excellent dimensional stability, the product is also extremely pliable. It is therefore a lot easier to work with the modelling clay to achieve the desired result.
High-quality products in vibrant colours for your creative projects
FIMO professional is ideally suited to jewellery making, for example. Ready for use in your creative projects, our products are available in many different colours and the following block sizes:
Standard 85 g blocks
Large 454 g blocks
FIMO blocks are divided into practical portions on the back. This makes it easier for you to blend colours to get the desired result. The FIMO block comes in resealable packaging for optimum storage.
In the FIMO professional doll art series, we also offer modelling clay that has been specifically designed for professional doll-making applications. The products are, of course, available in natural skin tones that have a semi-matt porcelain finish. You therefore have the perfect foundation for creating detailed doll faces and sculptures.
The FIMO range from STAEDTLER also includes mixed colour packs for blending. These sets contain several 85 g FIMO blocks in assorted colours.
Thanks to the pure pigments of our True Colours, you can use the FIMO colour mixing system to blend a variety of new shades. Since we use pure colour pigment to produce each of the colours in our FIMO professional True Colours series, you can enjoy brilliant blending results that you can recreate time and time again.
Purchase practical accessories for use with FIMO professional
We also offer the relevant equipment you will need to work with FIMO professional, including high-quality FIMO modelling tools. These tools are specifically tailored to the needs of FIMO artists and advanced crafters. The following items are particularly suitable for use with FIMO professional:
Modelling tools with various tips for precise shaping and forming
Blades for effortless cutting without squashing the clay
Acrylic roller for rolling out modelling clay
Sanding sponges for sanding hardened FIMO surfaces
Clay extruder for producing clay strings in various shapes
Shaped cutters in different sizes for designing jewellery
Clay machine for rolling out oven-hardening modelling clays
Clay scrapers for impressing and scoring patterns
With our modelling clays and tools, you will be optimally equipped to tackle FIMO projects of any size.
Tip: For easier kneading when working with firmer types of FIMO, you can use our FIMO mix quick clay softener. Simply knead it into the firm FIMO clay. This will then help soften the clay as you knead it.