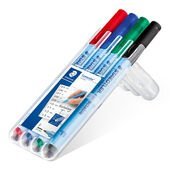 Lumocolor® correctable 305
Non-permanent dry erase pen
STAEDTLER box containing 4 Lumocolor correctable in assorted colours, line width F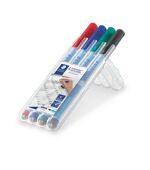 Lumocolor® correctable 305
Non-permanent dry erase pen
STAEDTLER box containing 4 Lumocolor correctable in assorted colours, line width M

Lumocolor® correctable 305
Non-permanent dry erase pen
Blistercard containing 2 Lumocolor correctable black, line width M

Lumocolor® correctable 305
Non-permanent dry erase pen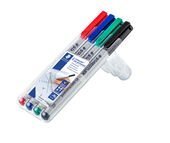 Lumocolor® non-permanent pen 311
Non-permanent universal pen S
STAEDTLER box containing 4 Lumocolor non-permanent in assorted colours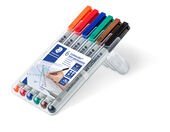 Lumocolor® non-permanent pen 311
Non-permanent universal pen S
STAEDTLER box containing 6 Lumocolor non-permanent in assorted colours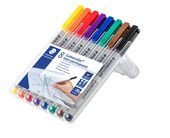 Lumocolor® non-permanent pen 311
Non-permanent universal pen S
STAEDTLER box containing 8 Lumocolor non-permanent in assorted colours

Lumocolor® non-permanent pen 311
Non-permanent universal pen S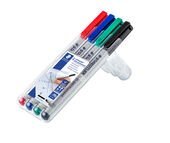 Lumocolor® non-permanent pen 312
Non-permanent universal pen B
STAEDTLER box containing 4 Lumocolor non-permanent in assorted colours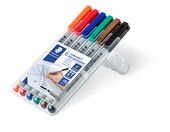 Lumocolor® non-permanent pen 312
Non-permanent universal pen B
STAEDTLER box containing 6 Lumocolor non-permanent in assorted colours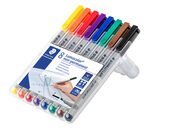 Lumocolor® non-permanent pen 312
Non-permanent universal pen B
STAEDTLER box containing 8 Lumocolor non-permanent in assorted colours

Lumocolor® non-permanent pen 312
Non-permanent universal pen B
Projector pens are often used in schools as they enable the subject matter to be communicated better in presentations or group work. The ink used in these writing instruments optimally adheres to smooth surfaces, such as overhead projector film. At home and in the office, practical overhead markers are often used to write on memo boards or to label data storage media, such as CDs or DVDs. You are sure to find the right solution for your specific application in our range of high-quality projector pens, which are available in assorted colors and line widths – both individually and in practical sets.
STAEDTLER projector pens for every possible application
At STAEDTLER, we offer two different types of projector pens:
Permanent pens
Non-permanent markers with ink that can be wiped off
Which option is right for you first and foremost depends on how you want to use the pen and the specific purpose. If you want to permanently mark the surface of an object, it's best to use our waterproof universal pens from the STAEDTLER Lumocolor permanent series. However, if you want to be able to correct or erase what you have written at any time, we recommend using our STAEDTLER Lumocolor non-permanent and correctable products. STAEDTLER projector pens are available in many assorted colors, including blue, red, green, black, brown and violet.
Permanent pens
The permanent universal pens in the STAEDTLER Lumocolor series deliver really intensive colors for permanent marking on virtually any surface:
Glass
Metal
Overhead film
and much more
The solvent-resistant pens are characterized by numerous high-quality product features:
Dry in seconds (making them ideal for left-handed users)
Smudge-proof and waterproof on all surfaces
Lightfast
Weatherproof
For example, they are particularly suitable for marking and labeling CDs, DVDs and Blu-ray discs. The ink does not penetrate into the data storage layer.
Non-permanent markers
Our non-permanent markers use water-soluble ink, enabling you to correct or erase what you have written at any time. This ink is also fast-drying, so there is no risk of smudging when writing. STAEDTLER non-permanent markers are available in the following variants:
Dry-wipe markers
Wet-wipe markers
The markers can write on many smooth surfaces, such as sheet covers, laminates, and overhead film. After wiping off the ink, you can write on the surface again.
Our Lumocolor correctable dry erase pens have an integrated wiper at the end of the pen. In addition, since the ink does not bleed through paper this pen can also be used to write on annual planners and academic calendars.
Universal pens for special areas of use
Our Lumocolor permanent special universal pens are designed for many special areas of use:
Nano coatings
Optical glass
Laboratory glass
Furthermore, thanks to their smudge-proof and waterproof qualities, these pens are also suitable for use on silicone and laminating film. Since this ink adheres to special surfaces that other markers are simply unable to write on or perform poorly on, these writing instruments are the ideal choice for opticians who need to write on nano-coated lenses, for example. Our high-quality universal pens are also available in the form of a laundry marker for labeling clothing and as a weatherproof garden marker for outdoor applications.