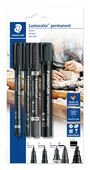 Lumocolor® 60
Mixed sets marker
Blistercard containing 4 Lumocolor permanent markers 310 CDS-9, 318-9, 342-9 and 350-9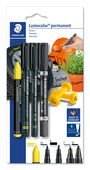 Lumocolor® 60
Mixed sets marker
Blistercard containing 4 Lumocolor permanent marker 236-1, 319 GM M-9, 314-9, and 348-9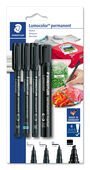 Lumocolor® 60
Mixed sets marker
Blistercard containing 4 Lumocolor permanent marker 313-9, 319 LM F-9, 317-9, and 350-9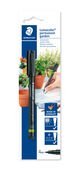 Lumocolor® permanent garden 319 GM
Permanent garden marker
Blistercard containing 1 Lumocolor permanent garden marker, black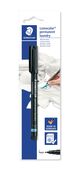 Lumocolor® permanent laundry 319 LM
Permanent laundry marker
Blistercard containing 1 Lumocolor permanent laundry marker, black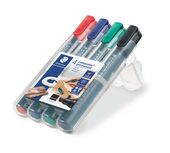 Lumocolor® permanent marker 350
Permanent marker with chisel tip
STAEDTLER box containing 4 Lumocolor permanent marker in assorted colours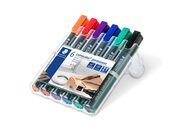 Lumocolor® permanent marker 350
Permanent marker with chisel tip
STAEDTLER box containing 6 Lumocolor permanent marker in assorted colours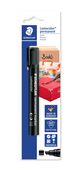 Lumocolor® permanent marker 350
Permanent marker with chisel tip
Blistercard "organisation" containing 1 Lumocolor permanent marker, black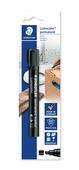 Lumocolor® permanent marker 350
Permanent marker with chisel tip
Blistercard containing 1 Lumocolor permanent marker, black

Lumocolor® permanent marker 350
Permanent marker with chisel tip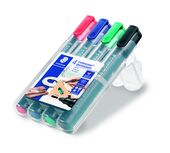 Lumocolor® permanent marker 352
Permanent marker with bullet tip
STAEDTLER box containing 4 Lumocolor permanent marker in assorted colours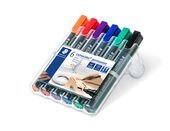 Lumocolor® permanent marker 352
Permanent marker with bullet tip
STAEDTLER box containing 6 Lumocolor permanent marker in assorted colours
Permanent markers enable you to permanently write on a wide range of surface materials. They are a flexible solution for more than just indoor use. As they are lightfast, waterproof and to some extent weatherproof, they are also ideal for use outdoors. Our universal pens are available in a variety of line widths, so you can select the right pen for the area you're working on. You are sure to find the ideal permanent marker to suit your needs in the STAEDTLER product range.
Permanent markers for permanent results
With permanent markers, you can write on almost any surface, such as glass, wood, metal and plastic. You can also label textiles with our textile marker. All permanent markers feature the following properties:
Fast-drying: They do not smudge while writing, which makes them excellent for left-handed users as well.
Smudge-proof: Once it dries, the ink is permanent and cannot be wiped off.
Lightfast
Waterproof: Equally suitable for labeling objects outside the home.
Two tips for flexible use
Staedtler Lumocolor permanent duo markers are double-ended waterproof pens with different tips:
One version has a bullet tip at either end with F (approx. 0.6 mm) and M (approx. 1.5 mm) line width.
The other version has a bullet tip at one end (approx. 0.6 mm) and a chisel tip at the other (approx. 1.5 - 4 mm).
Depending on the look you want to achieve, you can opt for the bullet tip for a uniform writing style, otherwise the chisel tip creates more angular letters. Thanks to the variety of line widths, you can write on different-sized surfaces. The STAEDTLER Lumocolor permanent duo marker is available both individually and as a permanent marker set in the following colors:
Good to know: Lumocolor permanent markers are of course also available as single-ended markers with a bullet tip or chisel tip. The above colors can be refilled at any time: once the permanent marker runs out of ink, it will be ready to write again in a matter of minutes using a refill station.
Permanent markers for organizing your garden
Lumocolor permanent garden is a waterproof marker specifically intended for outdoor use. It has a medium line width M (approx. 1.0 mm), similar to a fiber-tip pen . It is also waterproof, weatherproof and lightfast. For example, you can use this marker to label plant tags or flowerpots, allowing you to keep track of what you've planted. Even in strong sunlight or rainy weather, the ink will not come off.
Permanently label textiles with our laundry marker
Would you like to label your children's clothes or shoes so they don't get mixed up in kindergarten and at school? Or do you want to label your own work clothes so they can be clearly identified? It couldn't be easier with the STAEDTLER laundry marker. The marker has a bullet tip with line width F (approx. 0.6 mm) for precise labeling on clothing tags. This textile marker will withstand the rigors of your washing machine, so text will still be easily visible after multiple washes.