Coloured Pencils Drawing Techniques with Melanie Übleis
This topic will show you just how much coloured pencils have to offer. Alongside pencils, coloured pencils are a basic drawing utensil. Despite being typically associated with children, this drawing medium actually offers many interesting techniques to add colour and depth to your artwork and create both simple drawings and realistic works of art. In this Design Journey Art class topic, Melanie covers various coloured pencil techniques whilst also placing particular focus on the topic of creating watercolour effects using watercolour pencils.
Colouring Expert Melanie Übleis
My name's Melanie, I'm from Austria and my pronouns are they/them. I've been uploading art videos for over three years now and have learned so much along the way. Therefore, I want to inspire others to create something as well. I always listen to my intuition when it comes to ideas. I might be inspired by basic everyday life, by what others are doing or the shows I'm currently watching. The most important thing is that I actually use my ideas without judging them too quickly. I've found that everyone has a lot of ideas, it's just a matter of actually having the guts to follow them even if they might be weird or might have been done before. I want to inspire people to create without letting their fear and self-doubt stop them. Absolutely everyone can be an artist and so can you!
Focal Points of the Course:
Colour theory and the colour wheel
Techniques for combining coloured pencils and watercolour pencils
Composition of simple drawings
Landscape drawings
Discovery and trying out of new mediums
over 100 minutes of video tutorials
You want to get started right away? Check out our products section to start your Design Journey.
สำหรับคำบรรยายภาษาไทย กรุณาเปลี่ยนการตั้งค่า subtitle ในวีดีโอ
Get to know our drawing expert Melanie! In this first session Mel gives you an introduction about them as well as an introduction to colour. Follow along and create a simple yet beautiful colour wheel and play around with the watercolour ability of watercolour pencils.
สำหรับคำบรรยายภาษาไทย กรุณาเปลี่ยนการตั้งค่า subtitle ในวีดีโอ
Session two is all about the combination of permanent coloured pencils and watercolour pencils. Melanie will show you how to combine both mediums and will introduce you to their advantages. Mel will create a magical flower forest and will take you along for this easy but pretty drawing.
สำหรับคำบรรยายภาษาไทย กรุณาเปลี่ยนการตั้งค่า subtitle ในวีดีโอ
Learn how to compose a drawing and how to nicely fill up your page. In this session, Melanie will show you how you can adapt different forms to improve their fit on the page. Especially natural, organic forms are ideal to do that, like in this cute example: mushrooms.
สำหรับคำบรรยายภาษาไทย กรุณาเปลี่ยนการตั้งค่า subtitle ในวีดีโอ
Watch Melanie draw a cute squirrel with watercolour pencils. Going layer for layer in this drawing, you will find it is not as difficult as you may think. Just start our with easy basic shapes and from there, take it further. And always remember: practice makes perfect.
สำหรับคำบรรยายภาษาไทย กรุณาเปลี่ยนการตั้งค่า subtitle ในวีดีโอ
Experimenting with different mediums is an important step in every creative journey. Discover three extraordinary mediums and watch Melanie create simple landscapes with each of them: are you ready for tinted watercolour pencils, full watercolour pencils and pastel pencils? They will get your creative juices flowing.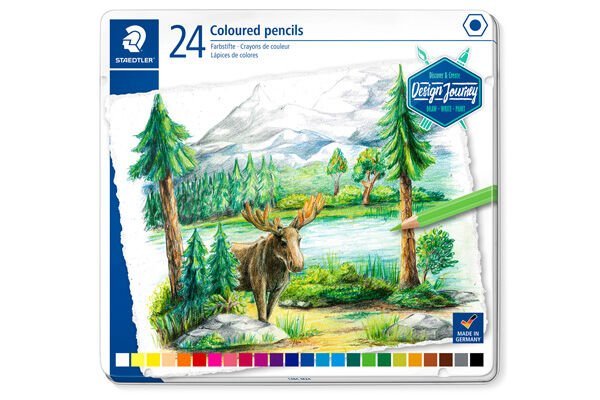 STAEDTLER® 146C
Coloured pencil
Metal case containing 24 coloured pencils in assorted colours
Buy online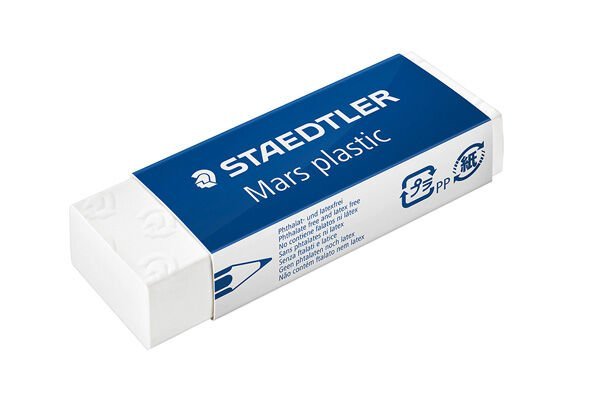 Mars® plastic 526 50
Eraser in premium quality
size: 65 x 23 x 13 mm
Buy online