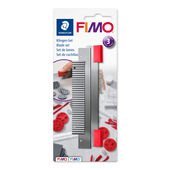 FIMO® 8700 04
Blades
Blistercard with mixed blade set, 3 pieces (1 rigid, 1 flexible and 1 serrated blade), 2 rubber grips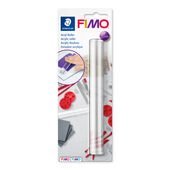 FIMO® 8700 05
Acrylic roller
Blistercard containing an Acrylic roller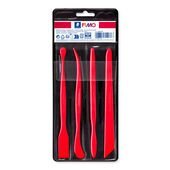 FIMO® 8711
Modelling tools
Wallet containing 4 different modelling tools
FIMO® professional 8700 17
Clay Extruder
Metal case with Clay extruder (dimension cylinder: lenght 127 mm, diameter: 21 mm), 20 motif discs, 3 spare rubber washers, storage box, step by step instruction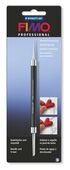 FIMO® professional 8711
Modelling tools
Blistercard Needle & V-tool, High-quality modelling tool, Double-ended tool with two different tips, stainless steel,Needle tip made out of stainless steel, V-tool, 60°, 40 mm long, stainless steel
FIMO modelling tools enable you to achieve the perfect look for your creative ideas. Whether shaping, cutting, smoothing or impressing patterns into the clay – these tools offer numerous options. In addition, they are all easy to use. Find the appropriate modelling tools that will help you bring your creative ideas to life.
Wide range of FIMO modelling tools
FIMO modelling tools are specifically designed for working with modelling clay. Whether you're a beginner or a professional and whether it's for shaping, cutting, smoothing, or accentuating details – the wide range of FIMO modelling tools from STAEDTLER offers the perfect tool for every possible result:
FIMO modelling tool for advanced users
FIMO tools made from plastic, which are also ideal for beginners
FIMO sanding sponges
FIMO acrylic roller
FIMO blades
FIMO clay extruder
By the way: You will find the appropriate tool for every type of clay in our range of FIMO modelling tools. From FIMO soft through FIMO professional and FIMO effect to FIMOair – the accessories can be used in many different ways.
Tip: For young artists crafting with FIMO kids, the work&play tools developed specifically for this series are the ideal choice. These tools are lighter, which also makes them easier for children to hold. In addition, they have rounded edges so there is no risk of injury.
Achieve the desired result with FIMO modelling tools
Various tools offer a wide range of possibilities for creating the optimum finish:
Tool

Result

Who are they suitable for?

FIMO modelling tools made from stainless steel

Shaping
Smoothing
Accentuating

FIMO modelling tool set made from plastic

Shaping
Smoothing
Creating patterns

For beginners and advanced users alike

FIMO sanding sponges

For wet sanding of modelled items
For smoothing hardened surfaces

Good to know: The sponges can be washed and are therefore reusable.

For beginners and advanced users

FIMO acrylic roller

Evenly rolls out the modelling clay
Smoothes the surface

Beginners through to professionals

FIMO blades

For cutting unhardened modelling clay
With rubber grip to prevent injury

For beginners and advanced users alike

FIMO clay extruder

For producing strings from unhardened modelling clay in a variety of shapes
20 different motif discs in various diameters

Good to know: Minimal effort is needed to operate the crank handle. There's no need to stop from time to time.

Perfect your creative ideas with FIMO modelling tools
Use tools from STAEDTLER to make unique pieces of jewellery, beautiful decorative items for the home or personal gifts. Create the perfect surface for your modelled pieces using sanding sponges. Make accurate cuts or impress and score unique patterns into your creations.
Let your imagination run free, there are no limits to your creativity. FIMO modelling tools will help you achieve the perfect result.