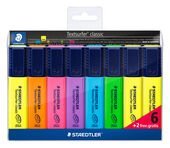 Textsurfer® classic 364
Highlighter
Wallet containing 6 Textsurfer classic in assorted colours plus 2 free of charge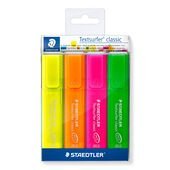 Textsurfer® classic 364
Highlighter
Wallet containing 4 Textsurfer classic in assorted colours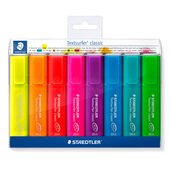 Textsurfer® classic 364
Highlighter
Wallet containing 8 Textsurfer classic in assorted colours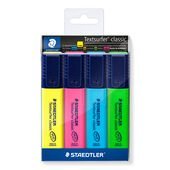 Textsurfer® classic 364
Highlighter
Wallet containing 4 Textsurfer classic in assorted colours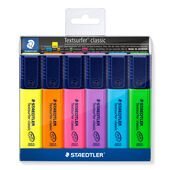 Textsurfer® classic 364
Highlighter
Wallet containing 6 Textsurfer classic in assorted colours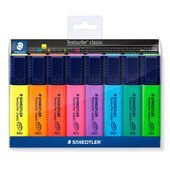 Textsurfer® classic 364
Highlighter
Wallet containing 8 Textsurfer classic in assorted colours

Textsurfer® classic 364
Highlighter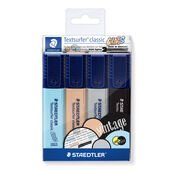 Textsurfer® classic 364 C
Highlighter
Wallet containing 4 Textsurfer classic in assorted colours - vintage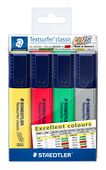 Textsurfer® classic 364 C
Highlighter
Wallet containing 4 Textsurfer classic, new range "Excellent colours"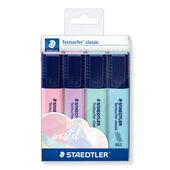 Textsurfer® classic 364 C
Highlighter
Wallet containing 4 Textsurfer classic in assorted colours - Pastel Line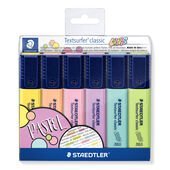 Textsurfer® classic 364 C
Highlighter
Wallet containing 6 Textsurfer classic in assorted colours - pastel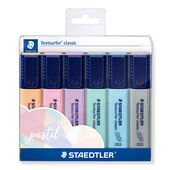 Textsurfer® classic 364 C
Highlighter
Wallet containing 6 Textsurfer classic in assorted colours - Pastel line
Using highlighters, you can highlight important sections in a text and find them easily again if needed. The colours used in highlighters are really luminous, ensuring that the information you highlight will definitely catch your eye. Highlighting with the Textsurfer 364 in turquoise and violet is also visible on photocopies. Stock up on high-quality highlighters from STAEDTLER and keep track of the information you need.
Keep track of important information with highlighters
Highlighters are indispensable at school, university and in the office. They are used to highlight individual passages of text so that important information stands out. This allows you to keep track of an entire text or document so you can see important content at a glance. The striking luminosity of these pens is down to the special fluorescent ingredients in the marker ink.
Different types of highlighters are available for different applications:
Rectangular highlighters with a chisel tip
Ergonomic triangular highlighters with a fine bullet tip or chisel tip
Dry highlighters
The wide range of applications of classic highlighters
The STAEDTLER Textsurfer classic marker has a large ink reservoir, delivering extra-long highlighting performance. If the marker runs out, you can refill it with suitable refill ink. To do this, simply insert the marker tip into the highlighter refill station. The highlighter will be completely refilled and ready to write again in three to four hours.
The STAEDTLER Textsurfer is available in eight assorted colours, so you can use different colours to highlight different information in a text. The violet and turquoise highlighters are also copy-proof, which means your highlighting will still be visible on black and white photocopies.
You can use the highlighters on standard printer paper, fax paper and carbon copies. They dry on all documents in a matter of seconds and the ink will not smudge once dry. They are also lightfast, ensuring that your highlighting will remain visible for a long time to come.
Good to know: The markers are INKJET SAFE, so will not smudge on inkjet printouts or handwritten text.
Comfortable and detailed highlighting with the triplus textsurfer
The STAEDTLER triplus textsurfer has an ergonomic triangular barrel, so the highlighter sits comfortably in the hand. This particular highlighter can create variable line widths. Depending on whether you hold this highlighter vertically or at an angle to the paper, you can produce a line width ranging from 1 to 4 mm. Thanks to the pleasantly soft, variable tip, the triplus textsurfer is ideal for highlighting fine print and can also be used for broad highlighting.
STAEDTLER Textsurfer gel for ultra soft highlighting
In addition to classic highlighter pens, STAEDTLER also offers gel highlighters. These highlighters have a twist lead, so there is no sharpening necessary. They are available in yellow, pink, orange and green. These highlighters have a gel-like wax lead, enabling approximately 3 mm wide highlighting. The wax lead provides a soft writing experience, and one of its main advantages is that it does not bleed through paper.
Special highlighters for thin paper
The Textsurfer dry model is a dry highlighter. This makes it ideal for use on thin paper, such as highlighting legal texts and passages in the Bible or newspaper articles. This highlighter will not dry out and is always ready for use.