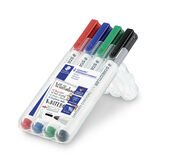 Lumocolor® whiteboard compact 341
Handy-sized whiteboard marker
STAEDTLER box containing 4 Lumocolor whiteboard compact in assorted colours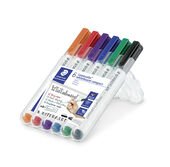 Lumocolor® whiteboard compact 341
Handy-sized whiteboard marker
STAEDTLER box containing 6 Lumocolor whiteboard compact in assorted colours
Lumocolor® whiteboard compact 341
Handy-sized whiteboard marker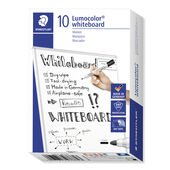 Lumocolor® whiteboard marker 351
Whiteboard marker with bullet tip
Ten count box containing 10 Lumocolor whiteboard marker in assorted colours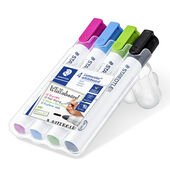 Lumocolor® whiteboard marker 351
Whiteboard marker with bullet tip
STAEDTLER box containing 4 Lumocolor whiteboard marker in assorted colours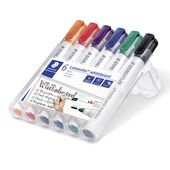 Lumocolor® whiteboard marker 351
Whiteboard marker with bullet tip
STAEDTLER box containing 6 Lumocolor whiteboard marker in assorted colours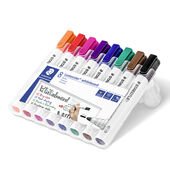 Lumocolor® whiteboard marker 351
Whiteboard marker with bullet tip
STAEDTLER box containing 8 Lumocolor whiteboard marker in assorted colours

Lumocolor® whiteboard marker 351
Whiteboard marker with bullet tip
Blistercard containing 1 Lumocolor whiteboard marker, blue

Lumocolor® whiteboard marker 351
Whiteboard marker with bullet tip
Blistercard containing 1 Lumocolor whiteboard marker, black

Lumocolor® whiteboard marker 351
Whiteboard marker with bullet tip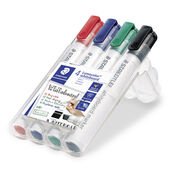 Lumocolor® whiteboard marker 351 B
Whiteboard marker with chisel tip
STAEDTLER box containing 4 Lumocolor whiteboard marker in assorted colours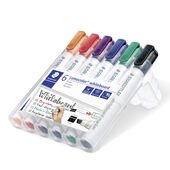 Lumocolor® whiteboard marker 351 B
Whiteboard marker with chisel tip
STAEDTLER box containing 6 Lumocolor whiteboard marker in assorted colours
Whiteboard markers are ideal for writing on whiteboards, specially coated boards and smooth surfaces. The high-quality pens available in our product range do not smudge, are easy to erase and the results are clearly visible even from a distance. STAEDTLER whiteboard markers are particularly useful for lectures and presentations, and are also great for drawing and note-taking during brainstorming sessions at the office. With these practical tools, you'll be optimally equipped for everyday work. These versatile pens are available in a choice of two tips and up to 8 colours to suit your specific needs.
Versatile tools for presentations and meetings at the office
Whiteboard markers are useful for a variety of applications. First and foremost, they are designed for use on whiteboards, specially coated boards and smooth surfaces. They are commonly used in meetings, for example when someone wants to explain something in more detail to the rest of the team. Special pens for whiteboards are also useful in typical brainstorming sessions. STAEDTLER markers are always ready to write, so you can quickly write down your ideas and sketch them out. If you happen to make a mistake, that's not a problem: whiteboard markers dry in no time at all and can be dry-wiped without residue, so correcting mistakes is super easy.
Sometimes you want to highlight a particular element on the whiteboard or emphasise the importance or sequence of a topic. In this case, it helps to use whiteboard markers in a few different colours. If you opt to use bright colours, then you can also be sure that even colleagues at the back of the room will be able to easily see and read your notes. We offer a wide range of writing pens in assorted colours and line widths. Our products are available with a bullet tip or a chisel tip.
Thanks to their special Dry Safe ink, STAEDTLER whiteboard markers can be left uncapped for days without drying up. This is a really practical feature, as lectures and presentations won't grind to a halt because your marker won't write. If you want to switch colours when writing, you don't need to put the cap back on pens each time; you can simply set them aside uncapped. These products have a low-odour ink and dry quickly after writing to prevent them from smudging on the whiteboard.
The advantages of whiteboard markers at a glance
Last-minute changes, additions or corrections are easy to make at any time with dry-wipe pens.
They are also suitable for writing on other smooth surfaces (e.g. glass, porcelain, overhead transparencies, etc.).
These markers can be refilled at any time.
Discover our whiteboard markers in practical sets
Our STAEDTLER Lumocolor whiteboard markers are not only available individually, but also as a set. Our practical STAEDTLER box contains 4, 6 or 8 markers in assorted colours. The refill station ensures that your whiteboard pens are always ready for use. It is not possible to overfill the whiteboard markers, as these writing pens only draw their own maximum ink content out of the refill station. Thanks to the double-sided adhesive tape on the back, you can conveniently attach STAEDTLER whiteboard marker sets to your whiteboard.
Special cleaning accessories for whiteboards
STAEDTLER also offers special whiteboard cleaning spray. This will keep your whiteboard from getting smudged when wiping off ink, so it will always look nice and clean. Your office will always be tidy in case of a last-minute meeting with clients.
Additional accessories for whiteboards
613 S whiteboard set: This set includes everything you need for working with a whiteboard. The set contains 4 whiteboard markers in assorted colours, 1 magnetic wiper, 1 whiteboard cleaning spray and 4 magnets.
652 whiteboard wiper: This magnetic wiper for whiteboards is ideal for dry-wiping whiteboards
641 CBA2/641 CBA3 whiteboard portable set: An ideal set for transforming any surface into a functional whiteboard. This is a flexible planning and presentation set for use on the go. This mobile whiteboard set consists of a transport box containing self-adhesive, detachable and repositionable whiteboard film, wiper and Lumocolor whiteboard markers in red, blue, green and black. The 641 CBA2 set includes whiteboard film in DIN A2 format, while the 641 CBA3 set includes whiteboard film in DIN A3 format.