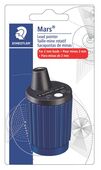 Mars® 502
Lead sharpener tub
Blistercard containing 1 lead pointer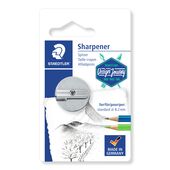 Mars® 510 25
Double-hole sharpener
Blistercard containing 1 magnesium double-hole sharpener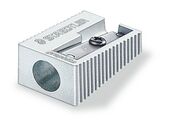 STAEDTLER® 510 10
Metal sharpener
Single product for standard-sized blacklead pencils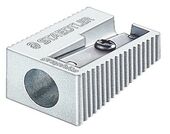 STAEDTLER® 510 10
Metal sharpener
Single product metal sharpener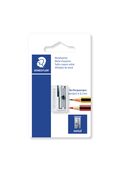 STAEDTLER® 510 10
Metal sharpener
Blistercard containing 1 metal sharpener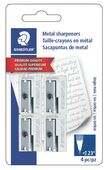 STAEDTLER® 510 10
Metal sharpener
Blistercard containing 4 single hole metal sharpeners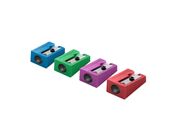 STAEDTLER® 510 10
Metal sharpener
Single product for standard-sized blacklead pencils in 4 assorted metallic colours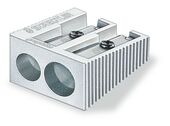 STAEDTLER® 510 20
Metal double-hole sharpener
Single product
STAEDTLER® 510 20
Metal double-hole sharpener
Single product double hole metal sharpener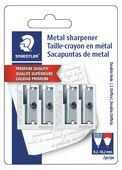 STAEDTLER® 510 20
Metal double-hole sharpener
Blistercard containing 2 double hole metal sharpeners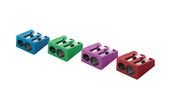 STAEDTLER® 510 20
Metal double-hole sharpener
Single product in 4 assorted metallic colours
STAEDTLER® 510 20
Metal double-hole sharpener
Blistercard containing 2 sharpeners
While it was once common to sharpen graphite and colored pencils with a knife, we now use specially-designed sharpeners to do the job. They evenly shave away the wooden surface of the pencil using a sharp blade fixed firmly in the case. At STAEDTLER, we offer robust metal and plastic sharpeners for graphite and colored pencils. These are suitable for normal-sized pencils as well as our extra-thick jumbo models. We use high-quality blades in all of our sharpeners, so you will always enjoy optimum sharpening results.
High-quality products for optimum sharpening results
The majority of our STAEDTLER sharpeners are manufactured by means of zinc die-casting. In this process, liquid metal is poured into the desired mold. After it has cooled down, the fully finished product can be ejected. Compared to other metals, zinc is a particularly robust and stable material.
However, we also offer more affordable plastic pencil sharpeners in our range.
We use high-quality steel blades in all of our pencil sharpeners. These are fixed in place with a screw. This guarantees the following:
The blade always remains straight.
The pencil is always held in place correctly by the blade.
The sharpener provides maximum stability.
All these factors mean that you will enjoy perfect sharpening results every time.
Which sharpener is suitable for which pencil?
Graphite pencils are characterized by their particularly hard and robust lead. The lead of these pencils can therefore be sharpened to a very fine and long point without breaking. Colored pencils, on the other hand, have a softer lead that needs to be sharpened to a slightly shorter and thicker point so that the lead doesn't break when coloring.
In our product range, we offer high-quality pencil sharpeners that are specifically designed for the special properties of graphite and colored pencil leads. The blades in our products have different sharpening angles depending on the purpose:
23° for graphite pencils to produce clean and accurate lines.
30° for colored pencils to produce broader and softer results.
We also offer metal and plastic sharpeners that are suitable for normal-sized pencils with a diameter of 8.2 mm, as well as double-hole sharpeners that are specially designed for our extra-thick jumbo pencils with a diameter of up to 10.2 mm. While our standard metal sharpeners come in classic silver-gray, our plastic sharpeners are available in a variety of colors.
The advantages of tub sharpeners
While our practical tub sharpeners have a plastic case, they feature a robust metal sharpener insert. Our STAEDTLER tub sharpeners allow you to sharpen your pencils easily and accurately without making a mess. The collecting tub and integrated cover with safety lock reliably prevent shavings from spilling. We offer single-hole and double-hole tub sharpeners for all common standard and jumbo pencil sizes in many attractive designs – from classic and colorful options to glitter models.
What causes the lead of my pencil to break off in the sharpener?
If you want to achieve optimum sharpening results, the blade of your sharpener always needs to be sharp. If the lead breaks off, this is often not down to the pencil, but rather because the sharpener itself is old and has become blunt. As a rough guide to the useful life of a pencil sharpener, it is usually advisable to replace your sharpener after it has sharpened around twelve fully used up pencils.