Mars® carbon 200
Lead
Blistercard containing 1 tube, HB

Mars® Lumochrom 204
Drawing lead
Tube containing 12 leads in assorted colours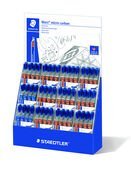 Mars® micro carbon 250
Mechanical pencil lead
Counter display containing 144 assorted tubes of leads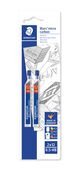 Mars® micro carbon 250
Mechanical pencil lead
Blistercard containing 2 lead tubes 250 05-HB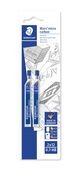 Mars® micro carbon 250
Mechanical pencil lead
Blistercard containing 2 lead tubes 250 07-HB
Pencil leads from STAEDTLER are characterized by their high degree of elasticity. This makes them robust and break-resistant. Our pencil leads are ideal for writing on paper and drawing card. They deliver an effortless and smooth-gliding writing experience, creating rich lines. Our range includes pencil leads in different widths, hardness grades and colors. 12 in one go: for many STAEDTLER mechanical pencils, such as the Mars micro and graphite 779, you can easily refill your pencil with the entire contents of our Mars micro carbon 250 and Mars micro color lead tubes.
What are pencil leads?
Pencil leads are used for mechanical pencils and are much thinner than the leads used in conventional pencils. Even though mechanical pencil leads are very thin, thanks to their elasticity, STAEDTLER pencil leads are extremely resistant to breaks. Another important advantage is that they do not need to be sharpened.
High-quality pencil leads for every requirement
STAEDTLER pencil leads are compatible with STAEDTLER mechanical pencils. They offer outstanding quality, as they are extremely resistant to breaks thanks to their high degree of elasticity. Our broad product range includes high-quality mechanical pencil leads that are characterized by the following product features:
High break-resistance
Robust
They are ideally suited to the following activities:
Writing
Drawing
Sketching
Our mechanical pencil leads will meet your individual requirements – whether you intend to use them for your drawing or writing instruments. Here you will find leads in many different hardness grades (from 2B through HB to 3H) and in five line widths (0.3 mm - 1.3 mm). When used on paper and drawing card, they create rich, even lines (and the harder the grade the lighter the result), which you can also easily remove with our erasers.
Colored leads for mechanical pencils
In addition to standard pencil leads for mechanical pencils, we also offer colored leads with a line width of 0.5 mm in the following colors:
Not only can you write or sketch on paper and drawing card with our STAEDTLER Mars micro color leads, you can also use them on matt drafting film and tracing paper, for example. These products are therefore a great alternative for those who prefer mechanical pencils, but also want to work with different colors. Our colored leads are also compatible with all mechanical pencils in our range with a line width of 0.5 mm.
Refilling pencil leads – It couldn't be easier!
Our STAEDTLER Mars micro carbon refill leads are the quick and easy solution when it comes to refilling your mechanical pencils. They come in a compact plastic tube with an innovative push-button mechanism and funnel-shaped tip. Simply place the tip in the open end of the pencil you want to refill and add the leads one at a time by pressing the button. The transparent tube means that you can watch as you refill and always see how many leads you have remaining and whether you need to purchase more. The main advantage, however, is that the fine, delicate leads do not have to be touched – the leads do not break and your fingers stay clean.
The lead tube contains 40 leads and is available in 0.5 mm and 0.7 mm line widths and in both HB and 2B hardness grades. Lead tubes for refilling mechanical pencils can be found here.
Refilling leadholder leads – It couldn't be easier!
To refill your leadholders with lead at any time, use our Mars carbon 200 box, which contains 12 leads with a line width of 2 mm. These refill leads are available in seven hardness grades (4H to 4B). These leads are refilled by simply pressing the push-button on the leadholder to open the drop clutch mechanism and inserting the 2 mm lead into the leadholder via the tip.