Explore the STAEDTLER pigment arts pen range!
The range includes high-quality ✓ brush pens, ✓ soft brush pens and a ✓ pigmented pen with round tip. All pen cases are made from 97% recycled plastic. The sustainable ink pens from the pigment arts pen range include an innovative and outstanding new ink, the so-called Multi Ink, which sets new standards in terms of color brilliance and lightfastness, and can be used on a wide range of surfaces.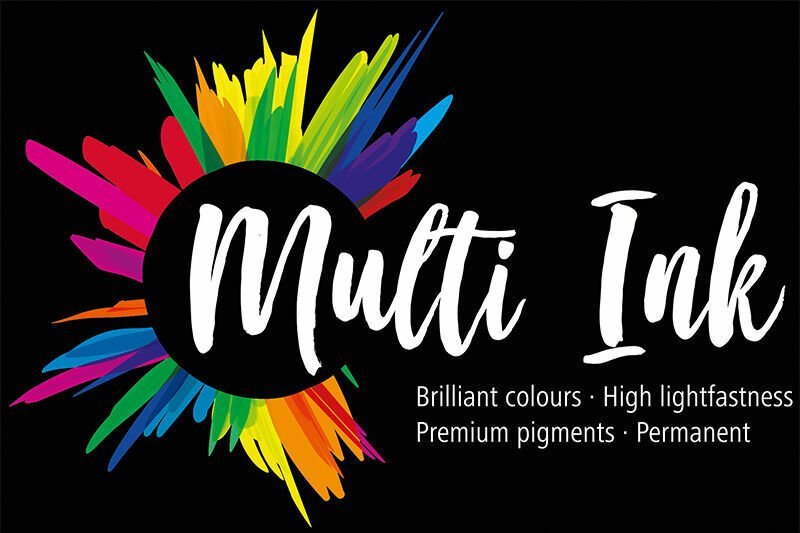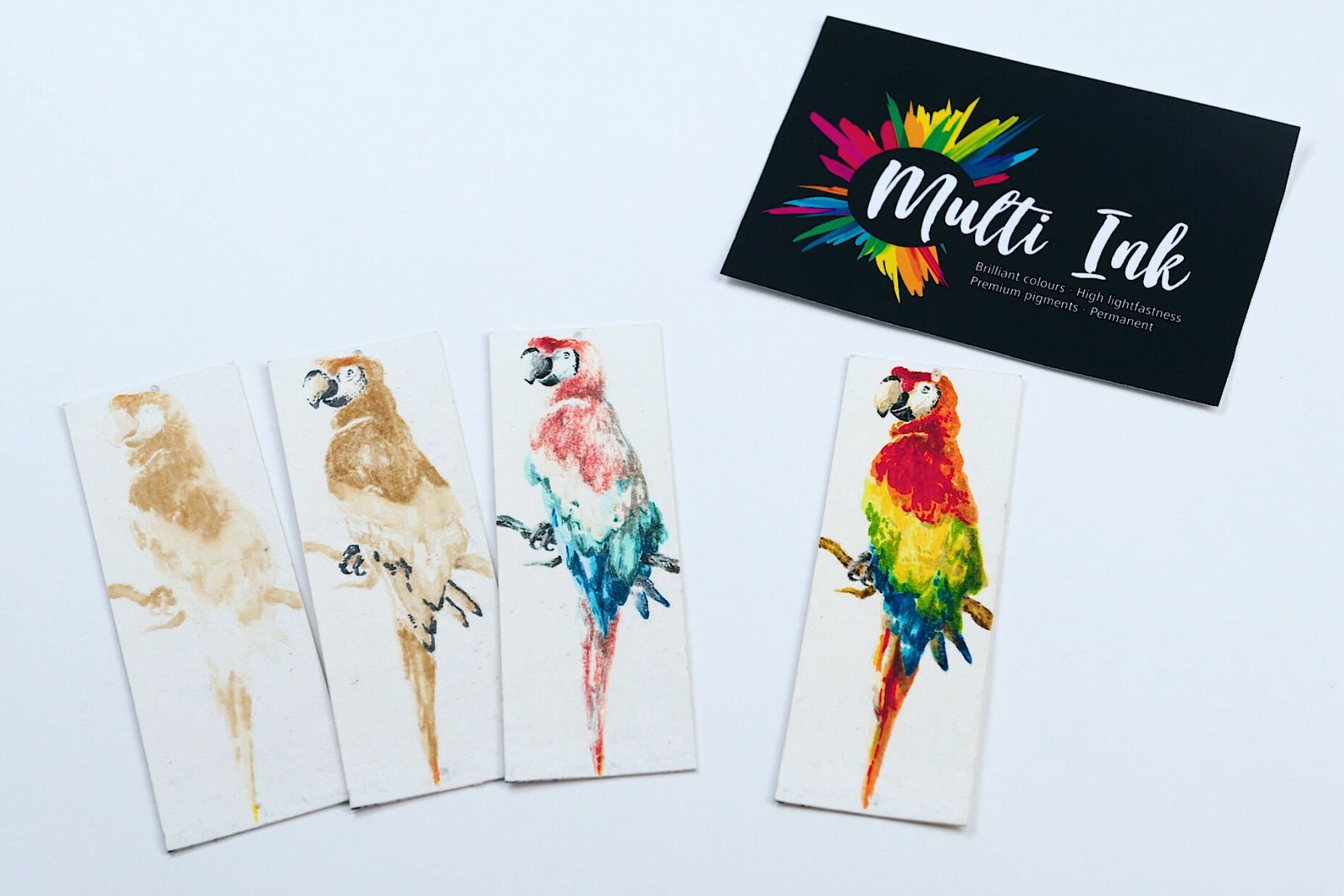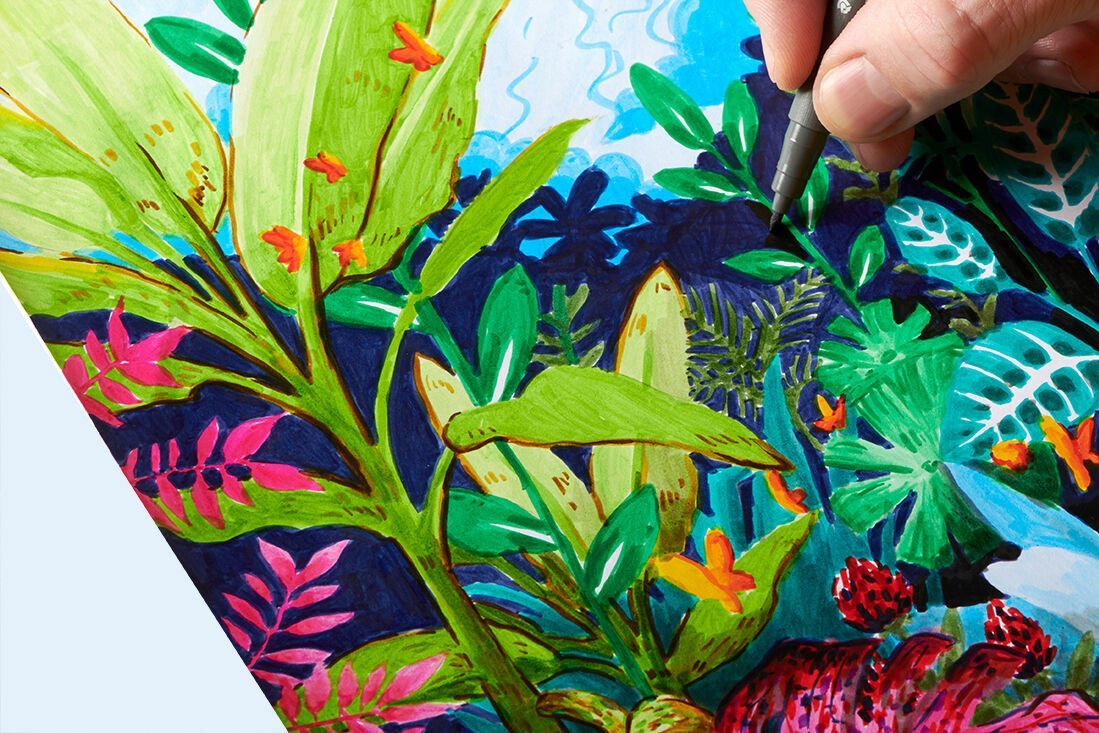 What exactly is Multi Ink?
At STAEDTLER, we have thought about how we can revolutionise the ink world and have developed an ink that combines the advantages of several ink systems.
Our Multi Ink ink is based on premium pigments, which means that even after years of UV exposure, it still achieves extreme lightfastness and exceptional color brilliance. Does your current pens' ink smear when painting over it? With Multi Ink, this is a thing of the past! What's more, the water-resistant and fast-drying ink won't ghost or bleed through paper. Multi Ink can be used on almost any surface (e.g. artistic paper, photo paper, canvas, cardboard, wood, and much more). Transform your artwork into vibrant and enduring masterpieces. Get MULTI-creative!
Can be used on many surfaces
Multi Ink can be used on almost all surface types such as artist papers (e.g. watercolour paper, layout paper, marker paper, ...), canvas, photo paper, cardboard, wood and more. In addition, the ink impresses with colour fidelity on a wide range of materials, making it the perfect choice for mixed media applications.
Create smudge-free outlines and contours
Easily achieve wipe-free contours once the ink has dried, the outlines can be painted over. This feature offers a wide range of possibilities. For example, first draw contours and objects with our pigment arts pens and then add a little background color with watercolors.
Brush pen with medium-strength brush tip
Easy to control: Ideal balance between flexibility and strength
The tip allows smooth transitions between thick and thin, as well as controlled lines
The ideal all-rounder for brush lettering, bullet journalling, illustrations, mangas, comics, drawings and paintings
Brush pen with soft brush tip
The brush tip is particularly soft
The tip allows wide variation in line widths
Ideal for brush lettering, drawings, shadow effects and mixed media techniques
Pigment pen/round-tip felt tip pen
Line width approx. ~1.0 mm
Available in "intensive black" (-99)
Ideal for contours, hatching and mixed media techniques
What's the best way to store the pigment arts pens?
It is best to store the pigment arts pens horizontally so that a consistent color shade can be guaranteed, otherwise pigment enrichments and resulting color shade changes could occur.
How to use Brush Pens?
Brush pens can be used in many different ways, but there are a few basic points to remember about their use:
By applying different pressure to the brush pens, the stroke width can vary and thick and thin lines or strokes can be created.
With brush lettering, for example, the way you hold the pen also plays an important role, as the brush tip of the pencil only delivers optimal results in the correct position. If the brush pen is held like a standard pen when writing, the transitions between thin and thick lines will not work smoothly. It is therefore important that the pen is not held too perpendicular to the paper, otherwise there is a risk of the brush tip kinking and being damaged.
What types of brush pens are there?
There is a wide variety of brush pens for sale. The main difference of the pigment arts brush pens is the type and size of the brush tip and the type of ink. Depending on how large the lettering is going to be or how detailed the artwork is to be, the corresponding brush size must also be selected. When it comes to the tip, a distinction can be made between shape-stable nylon tips, as with the pigment arts pens, and models with brush hairs.

Alcohol-based inks dry quickly and reliably on various surfaces. They are waterproof and suitable for layering the same shade or across different colour families. However, they generally penetrate the paper and are not odourless. They are also not the first choice when it comes to light resistance.
With water-based inks, a further distinction is made between water-based dye inks and water-based pigment-based inks. Though dye inks are very brilliant in colour, they are largely not light-resistant and often fade after a very short time. Even water droplets cannot withstand these inks and will cause them to fade/blur. Pigmented inks, on the other hand, are much more light-resistant, but the colours are less brilliant and colour-intensive. Both types of water-based ink are largely odourless and won't penetrate the paper, so backings can be used with confidence. However, their surface suitability is limited.

► Our innovative Multi Ink ink combines the benefits of the above ink types into a single ink, making it a true innovation! Multi Ink achieves exceptional colour brilliance (comparable to that of water-based dye inks), while even exceeding the lightfastness of normal pigment inks. In addition, it can have similar properties to alcohol-based inks: It is water and smudge resistant and can be used on a wide variety of surfaces. It also has a low odour and does not penetrate the paper.
How do you care for brush pens to make them last longer?
Basically, using bush pens requires a bit of feeling and practice when it comes to holding the pen: The pen should not be held too perpendicular to the paper, otherwise there is a risk of the brush tip kinking and being damaged. It is therefore advisable to hold brush pens as perpendicular as possible to the paper.
The choice of paper is also decisive in order to protect the tip as much as possible and avoid fraying of the tip. Standard copy paper is often too rough and can permanently damage the tip. That's why smooth-coated paper is the best choice.
Which types of paper are best?
The pigment arts pen pens work on many surfaces (e.g. wood, glass, plastic, stone) and papers (e.g. marker paper, watercolor paper, layout paper, etc.). But to protect the brush tips, smooth paper is best.
What do the stars on the barrel of the pens mean?
Our Multi Ink ink is extremely lightfast and color stable over years. The lightfastness of each shade of our Multi Ink ink is classified in accordance with the blue wool scale and grey scale (DIN EN ISO 105-B01, DIN 16525, DIN EN 20105-A02). This classification has been translated into an easy-to-understand star system. The number of stars on the pens represents the following
*** Good light resistance (blue wool scale 6, grey scale 4)
**** Very good light resistance (blue wool scale 7, grey scale 4)
***** Highest light resistance (blue wool scale > 7, grey scale 4)
Can I use water-based varnish over Multi Ink?
Water-based varnish over Multi Ink should work in principle if it is applied gently (e.g. by spraying). Of course, we cannot evaluate all the paints available on the market, which is why they should be tested in advance on an inconspicuous spot.
Avoid using alkaline paints (pH > 9).
Can I apply solvent-based lacquers, fixatives, top coats to works of art painted with Multi Ink?
The use of solvent-based lacquers, fixatives and topcoats on our Multi Ink ink should work, in principle. Of course, we cannot test all paints available on the market, which is why they should be tested in advance on an inconspicuous spot.
How long can the pens be left open without drying out?
This depends heavily on the respective pen model and color. To ensure that you can enjoy your pigment arts pen for a long time, you should close them quickly after use.
Can the pigment arts pens be used to paint stones and eggs?
Generally speaking, using the pen on stones and eggs is not a challenge, but it should be noted that rough surfaces can damage the pen tip. A fixative can also be applied to increase resistance to weathering.
What sustainability aspects have been taken into account in the pigment arts pen pens?
Sustainability is very important to us, which is why the barrel, cap and end cap are made from 97% recycled PP which also guarantees a long service life. When it comes to packaging, we rely on cardboard packaging made from 80% recycled material. Our pigment arts pen products are also developed and manufactured in Germany.
Could the pigment arts pens run out in an airplane?
Our pigment arts pen pens are airplane-safe: The automatic pressure equalisation prevents the pen from leaking out in the aircraft.