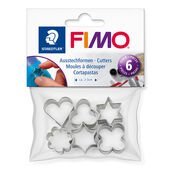 FIMO® 8724 03
Shaped cutters
Set containing 6 assorted motifs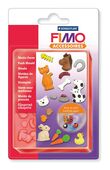 FIMO® 8725
Push moulds
Blistercard containing "Pets", 15 different motifs, motif size approx. 2 x 2 cm
FIMO® 8725
Push moulds
Blistercard containing "Vacanza", 10 different motifs, motif size approx. 3 x 3 cm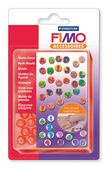 FIMO® 8725
Push moulds
Blistercard containing "ABC / 123", 40 different motifs, motif size approx. 1 x 1 cm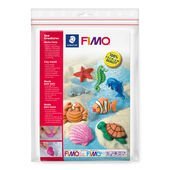 FIMO® 8742
Clay mould
Plastic bag containing clay mould "Sea creatures", 8 motifs, motif size approx. 6 x 4 cm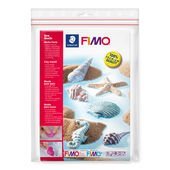 FIMO® 8742
Clay mould
Plastic bag containing clay mould "Sea shells", 6 motifs, motif size approx. 6 x 6 cm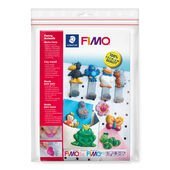 FIMO® 8742
Clay mould
Plastic bag containing clay mould "Funny animals", 10 motifs, motif size approx. 6 x 4 cm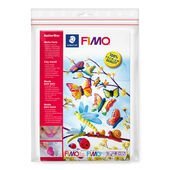 FIMO® 8742
Clay mould
Plastic bag containing clay mould "Butterflies", 9 motifs, motif size approx. 9 x 4 cm
FIMO shaped cutters and moulds from STAEDTLER allow you to easily create beautiful items from modelling clay. From decorative items that add a cosy touch to your home and beautiful jewellery that completes your look to thoughtful gifts – the possibilities are endless. Be inspired and bring your creative ideas to life!
Shape your creative ideas with FIMO shaped cutters and moulds
With FIMO shaped cutters and moulds, it couldn't be easier to create your chosen shape from modelling clay. In this category, you will find everything you need from simple shaped cutters and texture sheets to professional clay extruders – whether you are a beginner or a professional, STAEDTLER offers a wide range of possibilities to help you shape your creative ideas. Benefit from the following advantage:
Choose from a wide variety of different shapes – for every style and occasion.
Decorative elements for every season
Special FIMO moulds can be used to produce beautiful motifs with a striking surface texture. The modelling clay is simply pressed into the moulds and then removed again. Depending on the type of clay used, the small items can be hardened in the oven or by drying naturally in the air. In general, the following types of FIMO can be used with moulds:
Hardening process

Modelling clay

In the oven

FIMO professional
FIMO soft
FIMO effect

Air-drying

FIMOair basic
FIMOair natural

Air-drying or in the microwave
The STAEDTLER range includes heat-resistant silicone push moulds, which are particularly suitable for oven-hardening varieties of FIMO. In addition, there are 16 clay moulds covering a wide range of themes. From romantic hearts, pretty spring flowers and charming Christmas angels to fun farm animals – there's something for every occasion and style. Once the motifs have dried and cooled down, you can give them a beautiful finish using our effective FIMO Accessories:
Leaf metal in gold, copper or silver for an elegant lustre
Metallic powder for spectacular accents
Varnish for brilliant gloss or semi-gloss finishes
High-quality pieces of jewellery made from FIMO professional
When it comes to creating beautiful jewellery, such as earrings, necklaces or rings, you can choose from different FIMO cutters:
Teardrop
Navette
Diamond
Pennant
Each shape is available in a set of three different sizes. The cutters have a sharp-edged cutting side for accurate results. The rounded top edge makes them nice to work with and also prevents injury.
Tip: Experienced artists will especially enjoy creating jewellery pieces using FIMO professional modelling clay. However, beginners can also make pretty accessories. With this in mind, STAEDTLER offers some fantastic FIMO DIY Jewellery Packs in the FIMO soft range. They include everything you need to make the items.