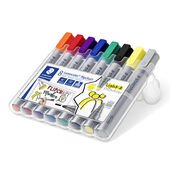 Lumocolor® flipchart marker 356
Flipchart marker with bullet tip
STAEDTLER box containing 6 x 356 and 2 x 356 B in assorted colours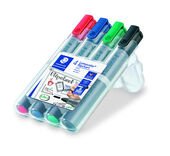 Lumocolor® flipchart marker 356
Flipchart marker with bullet tip
STAEDTLER box containing 4 Lumocolor flipchart marker in assorted colours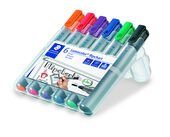 Lumocolor® flipchart marker 356
Flipchart marker with bullet tip
STAEDTLER box containing 6 Lumocolor flipchart marker in assorted colours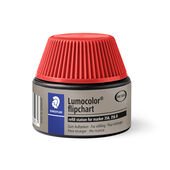 Lumocolor® flipchart marker refill station 488 56
Refill station for Lumocolor flipchart markers 356 and 356 B
Flipchart markers are special pens for writing and drawing on flipchart paper. The ink dries super-fast, so there's no risk of smudging when writing – even for left-handed users. The easy-grip barrel ensures a secure hold, which is especially useful when writing whilst standing up. Choose high-quality flipchart markers from STAEDTLER and get your ideas down on paper.
Flipchart markers for easily legible text
Do you want an easy way to visualise your thoughts and creative ideas for yourself and others? Then a flipchart is the right choice for you! To make sure that what you write down is easily legible, you should use suitable pens in assorted colours. The flipchart range from STAEDTLER includes the following pens:
Lumocolor flipchart markers with chisel tip
Lumocolor flipchart markers with bullet tip
Special features of STAEDTLER Lumocolor flipchart markers
Flipchart markers use water-based ink. The main advantage of this is that the ink does not bleed through. This type of ink is therefore ideal for writing on paper.
The ink dries in seconds, making the markers a great option for left-handed users, as there is no risk of smudging when writing.
All markers from STAEDTLER can be refilled completely in just a few hours with compatible refill inks.
STAEDTLER flipchart markers are available in six assorted colours.
Red, blue, orange, green, violet and black markers are available to purchase individually or in a set of four or six assorted colours.
The flipchart pens have a locked tip that cannot be pressed in. Even when you press down hard when writing, the tip will remain locked in place.
Markers with a chisel tip are available with a line width of approx. 2–5 mm. Markers with a bullet tip have a line width of 2 mm.
If you forget to replace the cap after using the pen there is no need to worry: these markers feature our DRY SAFE system. This means the pen can be left uncapped for days without drying up.
Lumocolor flipchart markers with chisel tip
Flipchart markers with a chisel tip create the classic look of calligraphy writing. This increases legibility. The tip of the marker must be placed on the paper at the correct angle. For clear results, it is best to write in block capitals.
Tip: Although ruled lines on flipchart paper provide a useful guide when writing, they can reduce contrast. This makes the written text harder to read. It's therefore a good idea to flip the paper over and write on the back. You will still be able to see the lines and use them as a guide when writing. However, the lines will hardly be visible to those sat further away and will no longer create a distraction.
Lumocolor flipchart markers with bullet tip
Markers with a bullet tip enable very fluid writing and allow you to create uniform text. They are a particularly good option if you also want to draw graphics on the flipchart, rather than just write text. They draw cleaner lines, edges and curves compared to a chisel tip.
Tip: For professional work, make sure you also get the right accessories to go with your high-quality flipchart markers. For a pleasant writing experience, your flipchart easel should be height adjustable. Castors on the base will allow it to be easily moved aside. In addition, some flipcharts are magnetic, providing you with even more presentation options.