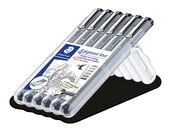 pigment liner 308
Fineliner
STAEDTLER box containing 6 pigment liner black in assorted line widths (0.05, 0.1, 0.2, 0.3, 0.5, 0.8)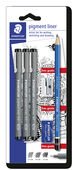 pigment liner 308
Fineliner
Blistercard containing 3 pigment liner black in assorted line widths (0.3, 0.5, 0.7) and 1 eraser Mars plastic 526 53, 1 sharpener 510 10, 1 blacklead pencil 100-2B for free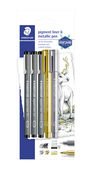 pigment liner 308
Fineliner
Blistercard containing 3 pigment liner black in assorted line widths (0.1, 0.2, 0.3-2.0) and 2 metallic pen 8323 gold and silver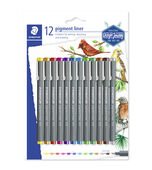 pigment liner 308
Fineliner
Blistercard containing 12 pigment liner in assorted colours (yellow, orange, red, fuchsia, violet, blue, light blue, light green, green, light brown, brown, grey), line width approx. 0.5 mm
pigment liner 308
Fineliner
STAEDTLER® 3001
Double-ended watercolour brush pen
Wallet containing 18 double-ended watercolour brush pens in assorted colours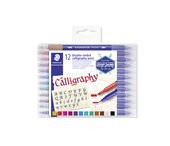 STAEDTLER® 3005
Double-ended calligraphy pen
Wallet containing 12 double-ended calligraphy pens in assorted colours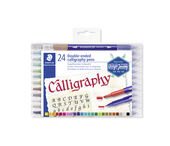 STAEDTLER® 3005
Double-ended calligraphy pen
Wallet containing 24 double-ended calligraphy pens in assorted colours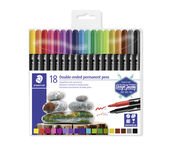 STAEDTLER® 3187
Double-ended permanent pen
Wallet containing 18 double-ended permanent pens in assorted colours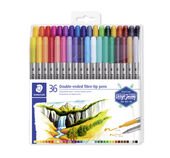 STAEDTLER® 3200
Double-ended fibre-tip pen
Wallet containing 36 double-ended fibre-tip pens in assorted colours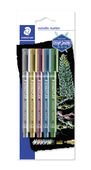 STAEDTLER® 8323
Metallic pen
Blistercard containing 5 metallic pen in assorted colours
Design Journey – fibre-tip pens, metallic markers and fineliners for drawing, colouring and illustrating
This range includes fibre-tip pens, fineliners and metallic markers for artists. It provides a variety of points and inks that will allow both beginners and advanced hobby artists to let their creativity run free and set off on their own creative adventure. Ideal for drawing, colouring, illustrating and writing.

Versatile fibre-tip pens
Our fibre-tip pens with two points give you versatility and vibrant colours. STAEDTLER double-ended fibre-tip pens are available in a variety of models: the fibre-tip pen for fabrics, brush lettering pen, fibre-tip pen for hand lettering and fibre-tip pen for calligraphy.
Fineliners for writing, sketching and drawing
STAEDTLER pigment liners come in impressive luminous, lightfast colours. Their long metal tip makes fineliners ideal for use with rulers and templates. Along with the pigment liner, this section also includes triangular extra-wide fineliners for ultra-broad pen strokes. Its ergonomic triangular shape makes the STAEDTLER broadliner ideal for relaxed writing and colouring.
Metallic markers for writing and decoration
Metallic pens are available in 4 metallic colours as well as gold and silver. These markers are ideal for writing on or decorating dark or light paper and cardboard. So they are ideal for use in scrapbooks and on greetings cards.