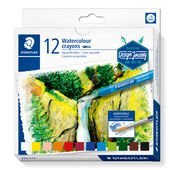 STAEDTLER® 223
Watercolour crayon
Cardboard box with 12 crayons in assorted colours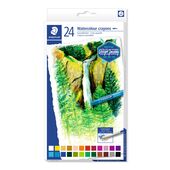 STAEDTLER® 223
Watercolour crayon
Cardboard box with 24 crayons in assorted colours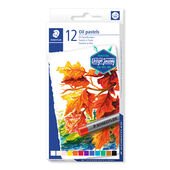 STAEDTLER® 2420
Oil pastel
Cardboard box containing 12 oil pastels in assorted colours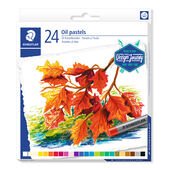 STAEDTLER® 2420
Oil pastel
Cardboard box containing 24 oil pastels in assorted colours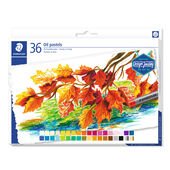 STAEDTLER® 2420
Oil pastel
Cardboard box containing 36 oil pastels in assorted colours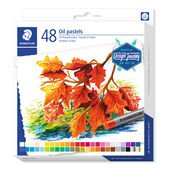 STAEDTLER® 2420
Oil pastel
Cardboard box containing 48 oil pastels in assorted colours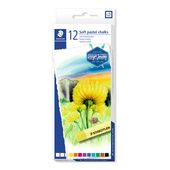 STAEDTLER® 2430
Soft pastel chalk
Cardboard box containing 12 soft pastel chalks in assorted colours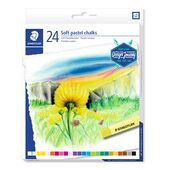 STAEDTLER® 2430
Soft pastel chalk
Cardboard box containing 24 soft pastel chalks in assorted colours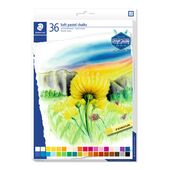 STAEDTLER® 2430
Soft pastel chalk
Cardboard box containing 36 soft pastel chalks in assorted colours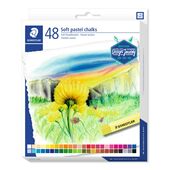 STAEDTLER® 2430
Soft pastel chalk
Cardboard box containing 48 soft pastel chalks in assorted colours
Design Journey – richly-coloured chalks & crayons for brilliant effects and amazing colour gradients
The artists' materials in this range allow both beginners and advanced hobby artists to create richly-coloured pictures in pastel chalks, or watercolour-effects with our watercolour crayons. So there is nothing to stop you creating artworks with pastel chalks or watercolour crayons.
STAEDTLER oil pastels allow you to create rich, bright colours and give outstanding coverage. There are 48 waterproof colours to choose from.
The soft pastel chalks allow you to create bright colours and all 48 colours are very lightfast. These chalks create pleasant, soft lines that are then very easy to blend, creating lovely effects.
Watercolour crayons in 24 different colours are great for layering and sgraffito techniques. A wide range of watercolour effects can be achieved with a paintbrush and some water.