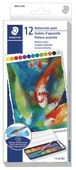 Noris® 888
Paint box
Cardboard box containing a watercolor pan set, 12 assorted colours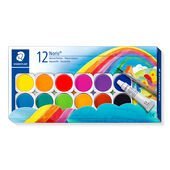 Noris® 888
Paint box
Single product containing 12 different, easy-to-blend watercolour paints, one tube of opaque white and one brush
Noris® 965
Hobby scissors
Blistercard containing scissors with 14 cm blade
Noris® 965
Hobby scissors
Blistercard containing scissors with 14 cm blade - left hander version
Noris® 965
Hobby scissors
Blistercard containing scissors with 17 cm blade
Children love paints. Often they can't be colorful enough. When little ones experiment with paints for the first time, they practice their creative skills, developing their intelligence and perception while gaining self-confidence. STAEDTLER's range of paint products also offers all sorts of tools for older school-age children or adults to create brilliant artwork on paper. You are sure to find exactly what you need in our product range.
Small artists can aim big with colorful paints
There are a variety of painting techniques that can be used to create art projects. The simplest of these is finger painting. Even young children can move their small hands intuitively over a sheet of paper or other surfaces. This allows them to experiment with different color combinations and shapes. Painting is an important activity for children because it encourages numerous stages of development:
Creativity
Fine motor skills
Spatial intelligence
Perception of the visual world
Boosts self-confidence
STAEDTLER products allow you to support these processes optimally. Our finger paints offer the following features:
Great coverage.
Fast-drying on many surfaces such as paper, cardboard and wood, as well as good adhesion on glass.
Finger paints are available in 100 ml paint pots for private use or as 25 US.fl.oz. bottles, e.g. for use in kindergarten groups or the classroom.
Our finger paints conform to European quality standard EN 71 Part 7.
Replacement paints can be purchased individually or in a set of finger paints.
Modeling dough is another way to support the development of your child's tactile awareness. This is available in four basic colors: white, yellow, red and blue. It is exceptionally soft, making it easy to knead, cut, roll out and squeeze. By playfully handling paints and dough, children develop a feel for the tactile properties of different materials, shapes and colors.
The next step: Paint boxes and tempera paints
If your children are a bit older and ready for school, it's time to let them work with paint boxes and tempera paints. Once they reach school age, their fine motor skills have developed enough that they can hold pencils and paintbrushes securely in their hands. STAEDTLER offers:
► For private use
Paint boxes, such as STAEDTLER Noris Club 888:
With 12 interchangeable paint pots.
A tube of opaque white paint and a brush are included as accessories.
The cover has an integrated palette for mixing. The removable cover makes cleaning easier.
Brilliant colors with high covering capacity.
All watercolors can be mixed with one another.
For smaller children, for example, our STAEDTLER Noris Club 8870 or 8871 watercolor paints:
8 colors in a plastic case with a lid that serves as a mixing palette.
The paint pots are available in two different sizes for smaller and larger brushes: watercolor sets with a diameter of 44 mm or 55 mm per pot.
► For use in the classroom
Tempera paints such as STAEDTLER Noris Club 8850/8851:
Available in large 16 US.fl.oz or 33 US.fl.oz bottles at an affordable price for schools or for amateur artists and prolific painters.
Up to 14 colors as well as opaque white.
Also available as a set of 6 assorted colors in plastic pots – they have great coverage and are easy to mix. They are therefore suitable for a wide variety of painting techniques.
Let your creativity run wild
Of course painting and crafting is not just for children – adults can also unleash their creativity. All you need are a few ideas and the right accessories.
Hobby tray: A hobby tray will help you keep your work clean. This is the perfect way to store small craft items. The hobby tray can also be used to mix paints.

Tip: You can separate different crafting supplies into individual trays. This will keep everything nicely sorted. You can then arrange the trays in a row according to the crafting process. This makes it easier to keep track of each step, for yourself as well as for children.
Craft scissors: These scissors from STAEDTLER are available in different lengths for different requirements. The cutting edge is rustproof. Our small children's scissors have rounded ends to reduce the risk of injury, especially when working with children. All scissors have a soft grip with an ergonomic shape to ensure comfortable, safe use when cutting. Left-handed craft scissors are, of course, also available.
Whether finger paints or watercolor paints, colored pencils, fibre-tip pens or fineliners – we offer the appropriate products for all coloring and drawing projects. Older children or adults can also try their hand at more intricate drawing techniques and use technical pens to put their creative artwork on paper.