pigment liner 308
Fineliner
Blistercard containing 1 pigment liner black, line width approx. 0.1 mm
pigment liner 308
Fineliner
Blistercard containing 1 pigment liner black, line width approx. 0.3 mm

pigment liner 308
Fineliner
STAEDTLER box containing 4 pigment liner black in assorted line widths (0.1/0.3/0.5/0.7)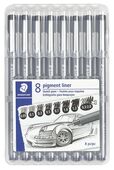 pigment liner 308
Fineliner
STAEDTLER box containing 8 pigment liner black in assorted line widths (0.05, 0.1, 0.3, 0.5, 0.7, 1.0. 1.2, 0.3-2.0)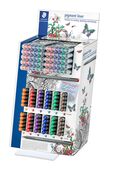 pigment liner 308
Fineliner
Counter display containing 120 pigment liner in 6 colours (orange, red, violet, blue, green, brown), assorted 2 line widths (0.3, 0.5)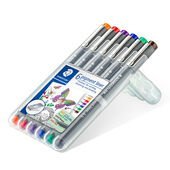 pigment liner 308
Fineliner
STAEDTLER Box containing 6 pigment liner in assorted colours (orange, red, violet, blue, green, brown), line width approx. 0.5 mm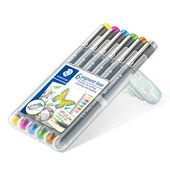 pigment liner 308
Fineliner
STAEDTLER box containing 6 pigment liner in assorted colours (yellow, fuchsia, light blue, light green, light brown, grey), line width approx. 0.5 mm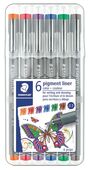 pigment liner 308
Fineliner
STAEDTLER box containing 6 pigment liner in assorted colours (orange, red, violet, blue, green, brown), line width approx. 0.5 mm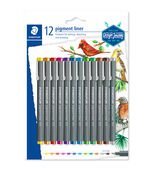 pigment liner 308
Fineliner
Blistercard containing 12 pigment liner in assorted colours (yellow, orange, red, fuchsia, violet, blue, light blue, light green, green, light brown, brown, grey), line width approx. 0.5 mm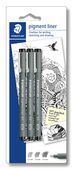 pigment liner 308
Fineliner
Blistercard containing 3 pigment liner black in assorted line widths (0.1, 0.3, 0.5)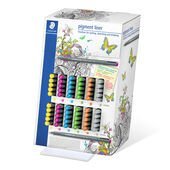 pigment liner 308
Fineliner
Counter display containing 120 pigment liner in 6 colours (yellow, fuchsia, light blue, light green, light brown, grey), assorted 2 line widths (0.3, 0.5)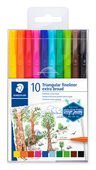 triplus® broadliner 338
Triangular broadliner
Wallet containing 10 triplus broadliner in assorted colours
Fineliners have countless possible uses. They can be used for writing, drawing, sketching and coloring. Available in numerous brilliant colors, users are sure to find what they need. Fineliners are also used by adults to color mandalas or create handlettering projects. Even artists enjoy the high quality of these pens. Find the right fineliners to suit your specific needs in the STAEDTLER range.
Interesting facts about fineliners
Fineliners contain an ink reservoir made from polyester. This is filled with ink that is dispensed evenly by the pen tip when writing or coloring. How long a fineliner will last depends entirely on the writing surface and the pressure applied by the user when writing. However, the rougher the paper, the faster the fineliner will run out and the sooner the tip will wear out.
Availability of fineliners
STAEDTLER brand fineliners are available online as well as in specialist stationery stores. Our classic model is the STAEDTLER triplus fineliner 334, which offers the following special features:
Superfine, metal-clad tip (line width: 0.3 mm)
Triangular barrel for optimum grip and a pleasant writing/coloring experience.
Available in 48 assorted colors. The range also includes neon fineliners, pastel fineliners, and fineliners in nature colors.
Washes easily out of many textiles.
DRY SAFE technology: the pen can be left uncapped for days without any danger of it drying up. (Standard atmosphere according to ISO 554)
STAEDTLER fineliners are available in various packaging and size options:
Practical stand-up STAEDTLER fineliner box containing a set of 4, 6, 10 or 20 pens.
Upright triangular pen case with separate lid and 12 assorted colors.
Cardboard box containing a set of 4, 15, 30 or 42 fineliners.
Pencil case in pink or black containing 20 assorted colors.
Fineliners and their various possible uses
Thanks to their fine tip, excellent writing results can be achieved with fineliners. The ink dries super-fast, so there is no danger of smudging. Fineliners are increasingly being used in the creative industry. For example, the STAEDTLER pigment liner is a popular choice for sketching, drawing and writing. It is available in a special set containing three assorted line widths and two metallic markers specifically designed with handlettering in mind. You can use this set to remind the favorite people in your life just how much they mean to you. From the heart and, above all, by hand:
Decorate invitations or greeting cards
Create custom photo collages
Embellish gifts with handmade tags
Are you or your children fans of the mandala trend? Then in addition to colored pencils, why not try coloring with our fineliners? Benefit from this special feature:
At STAEDTLER, all of our fineliners and fibre-tip pens are available in the same range of colors. This means that you can mix and match pens with different tip sizes for different areas.
Art supplies for high-quality watercoloring
If you enjoy watercoloring, take a look at the professional watercoloring set available from STAEDTLER, which includes the following components:
Watercolor pencils in 36 assorted colors
A metal case containing 12 graphite pencils in assorted hardness grades
Pigment liners in four assorted line widths
The ideal eraser to accompany this set is the karat art eraser. This is a special-purpose kneadable eraser for artists, which can be used to create effects with light and shade.