ergosoft® 157
Coloured pencil
STAEDTLER box containing 12 soft coloured pencils in assorted colours
ergosoft® 157
Coloured pencil
Refill set containing 1 STAEDTLER Box + 1 cardboard box both containing 12 coloured pencils in assorted colours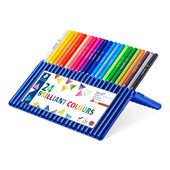 ergosoft® 157
Coloured pencil
STAEDTLER box containing 24 coloured pencils in assorted colours
ergosoft® 157
Coloured pencil
STAEDTLER box containing 24 soft coloured pencils in assorted colours
ergosoft® aquarell 156
Watercolour pencil
ergosoft® aquarell 156
Watercolour pencil
STAEDTLER box containing 24 watercolour pencils in assorted colours
ergosoft® aquarell 156
Watercolour pencil
STAEDTLER box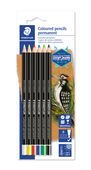 Lumocolor® permanent glasochrom 108 20
Waterproof dry marker
Blistercard containing 6 permanent pencils in assorted colours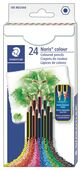 Noris® colour 185
Coloured pencil
Cardboard box containing 24 coloured pencils in assorted colours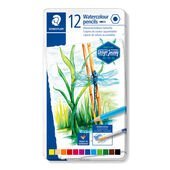 STAEDTLER® 146 10C
Watercolour pencil
Metal case containing 12 watercolour pencils in asssorted colours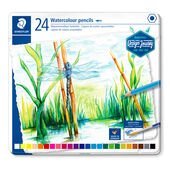 STAEDTLER® 146 10C
Watercolour pencil
Metal case containing 24 watercolour pencils in asssorted colours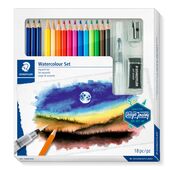 STAEDTLER® 146 10C
Watercolour pencil
Cardboard box containing 3 watercolour graphite pencils in assorted degrees, 12 watercolour pencils in assorted colours, 1 water brush, 1 eraser and 1 metal sharpener
From an early age, we come into contact with colored pencils. As young children, we made our first tentative attempts at coloring – in coloring books, notebooks or anywhere we could let off steam creatively. STAEDTLER offers more than just pencil crayons for children to color large areas. Older children and adults who want to unleash their creativity will also find the ideal products for their needs.
The colored pencil and its special features
Over 180 years ago, Johann Sebastian Staedtler developed the colored oil pastel pencil, the predecessor of the colored pencil. The manufacturing process has not changed all that much over the years: individual color pigments are still mixed with binding agents and pressed into the shape of a lead. The lead is encased in wood to protect it. These colored pencils offer numerous advantages over the earlier pastel pencils:
More intensive performance
More durable results
Hands stay clean thanks to the protective casing
Comprehensive coloring and drawing options to suit individual needs and preferences
People have been creating pictures since time immemorial. They use this activity as a way to practice their creativity and let their creative thoughts run free, allowing them to relax while coloring and take delight in the results. Whether colored pencils for children or adults, or artists colored pencils: you will find the perfect colored pencils to suit your individual needs and preferences in STAEDTLER's wide range of products.
Our range includes:
Colored pencils made from WOPEX, such as our STAEDTLER Noris colour.
- The homogeneous lead means that the pencil glides smoothly over the paper.
- The density of the material makes these pencils a little heavier, and they sit comfortably in the hand.
- The non-slip soft surface has a pleasant feel.
- The pencil has high break-resistance.
Colored pencils with ABS, such as our STAEDTLER Noris.
- These pencils feature our unique Anti-Break-System: the white protective coating reinforces the lead core and increases break-resistance.
- Available in an attractive, resealable metal case or an environmentally friendly cardboard box.
- The range also includes special erasable colored pencils. Mistakes can be corrected immediately with the PVC and latex-free eraser at the end of the pencil.
A classroom pack containing 144 or 288 colored pencils in 12 assorted colors is also available.
Colored pencils in triangular format, such as our STAEDTLER ergosoft or STAEDTLER ergosoft jumbo in lots of bright colors.
- Thanks to its triangular shape, the pencil sits comfortably in the hand ensuring relaxed and easy coloring.
- The soft, non-slip surface ensures a secure grip.
- The individual pencils have a name field so classmates don't get their pencil mixed up with another's.
- The pencils can be ordered in the practical stand-up STAEDTLER box, which can be refilled.
- The pencil crayons in jumbo format are extra-thick and therefore particularly suitable for those who are only just learning to color.
- When starting to color, children often press down too hard as their sensitivity to pressure is not yet fully developed. These colored pencils therefore also feature ABS, the white protective coating around the lead that increases break-resistance.
Watercolor pencils, such as our STAEDTLER Noris aquarell, ergosoft aquarell or karat aquarell
- The watercolor pencils have a watercolor lead, which offers a wide range of coloring possibilities, as the rich colors can be applied with water and a brush.
- The watercolor pencils can also be used for dry effects.
- The colors blend together beautifully.
Tip: Many STAEDTLER colored pencils are available in a set as well as individually. You can therefore buy replacements of your favorite colors, which usually get used up sooner.
Ingredients of colored pencils
The primary ingredients in the lead of a colored pencil are color pigments and binding agents. STAEDTLER pays particular attention to ensuring that environmentally friendly solutions are used to source and process wood:
PEFC standard (PEFC/04-31-1227)
FSCTM standard (FSCTM C007132)
STAEDTLER sets high standards, especially for the sourcing and processing of wood, which is one of the most important raw materials in the manufacturing of wood-cased pencils. This is why STAEDTLER is certified for the production and sale of wood-cased pencils in accordance with current FSC and PEFC standards (chain of custody/CoC certification). Certification underlines STAEDTLER's commitment to safeguarding the environment and our responsible approach to the use of wood, our indispensable raw material. At STAEDTLER we apply, and will continue to apply, our environmental philosophy to all production processes in order to ensure sustainable quality of life and to protect the environment.