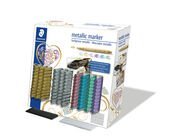 STAEDTLER® 8323
Metallic pen
Counter display containing 100 metallic pen in 6 assorted colours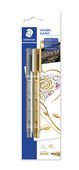 STAEDTLER® 8323
Metallic pen
Blistercard containing 2 metallic pen, gold and silver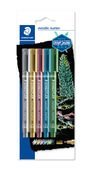 STAEDTLER® 8323
Metallic pen
Blistercard containing 5 metallic pen in assorted colours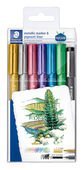 STAEDTLER® 8323
Metallic pen
Wallet containing 6 metallic pen in assorted colours and 1 pigment liner 308 for free
The opaque metallic pens in STAEDTLER's extensive product range are ideal for writing and drawing on light and dark paper or card, as well as adding decorative touches. You can also create some stunning effects on smooth surfaces such as glass, plastic and other materials; however, metallic markers are only smudge-proof on paper and card. These high-quality markers are always ready to write without having to pump or shake them first. Discover our high-quality metallic markers in a range of assorted colors. You can purchase these products either individually or as a practical set.
Long-lasting silver and gold metallic markers with high-quality product features
STAEDTLER's metallic pens have a line width of 1 - 2 mm and deliver excellent color quality thanks to their brilliant color pigments. The products in our range are available in the following captivating metallic shades:
Gold
Silver
Metallic red
Metallic blue
Metallic green
Metallic violet
STAEDTLER metallic markers are always ready to write. As you don't need to pump or shake them, you can get started on your creative work right away. Their robust fiber bullet tips are suitable for drawing fine lines as well as covering larger areas. Furthermore, our metallic pens write smoothly without smudging or leaking.
The ideal pens to add a lustrous, elegant touch to your artwork
The metallic pens in our product range are true all-rounders, which are perfect for use on your artistic projects. Our gold and silver metallic markers are particularly suitable for decorating and embellishing:
Greeting cards
Photo collages
Personalized gift tags
and much more
STAEDTLER silver and gold pens are also very popular metallic markers for scrapbooking and handlettering.
Our markers offer high covering capacity, so they are suitable for more than just light shades of paper and card. These intense colors really come into their own on dark or solid black backgrounds. You can also write on thin paper using our high-quality metallic pens, with no risk of the ink bleeding through. With their unique reflective metallic sheen, they produce a truly elegant, lustrous effect. Use them to add a touch of sophistication to your sketches, drawings and many other creative projects.
Metallic markers in gold, silver and other colors for paper and smooth surfaces
Metallic pens from STAEDTLER can be used for more than just drawing and writing on paper and card. You can also use these products to create sparkling metallic effects on smooth surfaces in no time at all (however, please note that the metallic markers are not smudge-proof on smooth surfaces):
Glass
Mirrors
Plastic
Metal
Wood
and much more
With these versatile products, you can achieve fantastic results on almost any background.
Since STAEDTLER metallic pens are non-permanent, you can wipe the ink from these markers off smooth surfaces at any time with a damp cloth. Please note that the ink in our metallic pens is not dishwasher-safe. If you would like to decorate tableware made from materials such as glass or porcelain, we recommend using the water-resistant permanent markers in our product range.