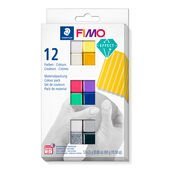 FIMO® Colour pack 8013 C
Oven-bake modelling clay
Colour Pack FIMO effect in cardboard box with 12 half blocks (assorted colours), instructions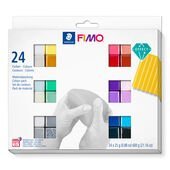 FIMO® Colour pack 8013 C
Oven-bake modelling clay
Colour Pack FIMO effect in cardboard box with 24 half blocks (assorted colours), instructions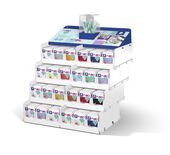 FIMO® effect 8020
Oven-bake modelling clay
Display with 288 blocks à 57 g, 24 colours (12 x glitter white, glitter silver, glitter gold, glitter red, glitter blue, glitter purple, translucent white, translucent yellow, translucent red, translucent bluem translucent green, translucent purple, metallic mother of pearl, metallic silver, metallic gold, metallic copper, metallic ruby red, pearl black, pearl rose, pearl lilac, pearl silver, nightglow, granite, star dust), 1 acrylic presenter, 1 Topper, 1 colour label, 1 finished sample "crystal"
FIMO effect is a fantastic creative addition to FIMO soft and FIMO professional. This clay allows you to create some very special effects: Depending on the color you choose, your creations will look like real stone, have a mystical luster to them or glow in the dark. Create some stunning effects that really have the WOW factor!
FIMO effect – For a stunning look
FIMO effect modeling clay from STAEDTLER is available in 36 colors and eight effects (glow, glitter, transparent, stone, metallic, pastel, gemstone, pearl). Special feature: The various colors all create some great effects. FIMO effect is ideal for use in combination with FIMO professional and FIMO soft.
Colors/effects of FIMO effect:
Translucent colors for a semi-transparent look
Mica particles in our metallic colors create wonderful metallic effects
Gemstone colors create a transparent and lustrous pearl look
Fluorescent colors glow in the dark
Glitter colors add a touch of glamour
Items modeled from our stone colors almost look like real stone
Pastel colors are perfect for spring projects
Items modeled from our pearl colors shine almost like real pearl
Creative modeling with FIMO soft or FIMO professional
FIMO soft is a soft modeling clay that is easy to shape. It is therefore ideal for all adults who are giving modeling a try for the first time. When used in combination with FIMO effect, even beginners will achieve some truly breathtaking results.
FIMO professional is harder than FIMO soft, so it takes a little more work to shape it. It is therefore more suitable for experienced artists and for intricate modeling projects. So there are no limits to the possibilities or your imagination!
Surprise your kids with an enchanting starry sky or fun ghosts that glow in the dark – all made possible with glow-in-the-dark colors from FIMO effect.
Use stone colors for realistic looking marble effects and to create decorative items, such as bowls, vases or coasters, for your home.
Use the pearl effect to design exquisite pieces of jewelry, such as earrings, necklaces, bracelets or rings.
How do you harden FIMO effect in the oven?
Once you have finished modeling your items from FIMO, you need to harden them to make them stable. To do this, proceed as follows:
Preheat the oven to 230°F.
Line a baking tray with baking parchment or aluminum foil and carefully place the modeled items on the tray.
Harden them in the oven for 30 minutes. For best results, use an oven thermometer to check the temperature during hardening.
Allow the modeled items to cool down completely before continuing to work on them using the relevant FIMO Accessories for surface treatment.
Tip: In case individual parts of the hardened item break off, you can easily reattach them using a two-component adhesive.